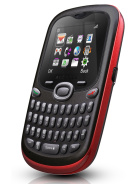 t
it is good for money as it covers all need of a phone, what else do you need.
R
Mel , 25 Aug 2010Can anyone tell me if this phone can download mxit and facebook? Their wont be a Facebook app because you cant upload pictures lol
?
this handset doesnt even have bluetooth an costs 15 pounds why would anyone think it would have internet capabilities!!??
P
Bought one today and it's great value for money. No it doesn't have a camera, no it doesn't have bluetooth and no memory expansion. Who cares I have an iphone 3gs for that anyway.

It does look like a Blackberry with its qwerty keyboard, which is very responsive,and it also have a tft screen which very bright & clear.

I use it as a backup phone.
?
very very good phone. it is cheap and it has a qwerty keypad so i cand sent text messages very fast. and the buttons feels nice. this phone is very compact, though it still has qwerty keypad.
?
A cheap object that try to emulate everything but don't make anything...much better a simple 1209: just a phone, but it is a phone.
D
We've just been sent these to sell at 29.95 on payg -great we though until we realised NO BLUETOOTH, NO CAMERA AND NO EXTERNAL MEMORY! Whats the point!
C
You may view the most current Alcatel Mobile Phones roadmap at www.cellatel.com/handsets.html
S
Knight Rider, 18 Feb 2010For more info about Alcatel and their new range of phones, email me on un112@msn.com.Please don't think I am cheeky, this is a genuine request for help. I am a lady of advanced years and own an OT256 (2005) but my Yorkshire Terrier has shredded my Instruction Leaflet which I use a lot. We seniors do have moments of lost recall such as how to load credit etc.

Can you direct me to someone who could supply me with a Leaflet? I would be extremely grateful.
Total of 134 user reviews and opinions for alcatel OT-255.