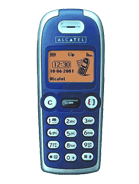 k
i need some help im trying to find some pictures for my alcatel 311 but it seem there are no site to get any please can you help
m
we here in egypt think that the new alcatel 311 is the best. Light,vibration its just great
A
very good phone, just bought it this week. Am hugely impressed, lovely feel, good features, superb phonebook. Only problem is i cant find anywhere that lets you download graphics for it. 9/10
s
Excellant phone, small and lightweight, V easy to use. Its only downfall it that there are no sites to download logos or ringtones yet
m
this -phone is one of the good phones i have ever seen. but i think that the nokias all but the 7110 are even worse. The alcatel has good features and ive scene an actual size models of it and they r really great i shall certainly be bying it
B
Here in Romania this model it's about 400$.In Germany it's 250$.It's great.I own a 701 but...i really like this one!
p
considering this is an alcatel it's general performance is excellent I have had mine for just over a week and am quite impressed. the only thing that does not appear to be functioning as the guides indicate is that when a ring tone is selected for a "group" calls from numbers in that group play the default tone and not the one selected for the group - although this is only a minor problem. battery life is good earpiece volume fantastic overall a great buy
Total of 310 user reviews and opinions for alcatel OT 311.