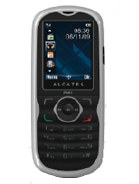 D
I spent many days with this lovely phone, it was a midranger in that time :)
M
This phone is basic for the features is good, but the key pad is very bad the Option bottun in the top left dosent work properly, in my expeience.
Photos are VGA is very slow to capture and you have to be very still about 30 sec. to have a good photo.
Total of 5 user reviews and opinions for alcatel OT-508A.