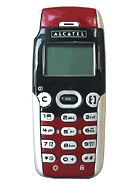 B
Any one know where I culd buy this phone? either online or not?
I think it is a kwool phone, esp with the changable covers.
k
alcatel is super!!!!!!!!!!!!!
alcatel are complete well!!! it sucks not!
greets
?
What the holy-mother-of-all-crap is this?! is this supposed to be stuck on a stick on airports, as a marker for airplanes to land by?!?!
Q
I've got the 511, dont see any use in getting this phone apart from GPRS...
M
This shows the new Alcatel politics. Take a beautiful phone and turn it into the ugliest thing you've ever seen!!! Great work Alcatel!! You've really blow it this time!
Total of 30 user reviews and opinions for alcatel OT 525.