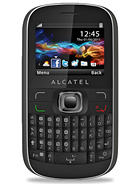 k
The phone is best. Some Games and Application not working. Not working in youtube. Faster internet.

k
hi i just bought this phone, i'm wondering, whenever i turned the radio on and click the loudspeaker...is it normal that both my headset (ear phones) and the phone's speaker sound at the same time? i just thought that my phone is broken? or its just normal...i'm kinda' oz "o-c" with that. and compared to other phones when you turn on the loudspeaker "on", then only the speaker works, but in my phone...both of the headset and the loudspeaker runs! i hope its normal'
c
I have this one last April and it's a very nice phone. very basic. no problem with the dual sim. battery runs up to 2 days (8 hrs music and txt). very cute and handy. nice phone.
0
i have one..but i'm sad because the internal memory was little,it has only 2mb.how about 0t 807,how much that now?it has 50mb.
Total of 28 user reviews and opinions for alcatel OT-585.