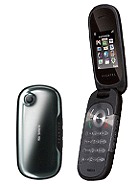 s
Samy, 24 Nov 2009Can i know if that phone support MP3 ring tones or just polyphonicit is awesome phone i have it, play mp3 and have a media players like my old sony w700 although its low price
?
A sleek and smooth phone. When it's closed, it looks like the case for my glasses.
s
this handset is also known has a t mobile T-Mobile E100
and is in black and in pink sold int mobile stores in the uk . it retails for £ 39 .99 plus £10 pound call time .
it will make a cheap and smart mobile for the ladies .

Total of 27 user reviews and opinions for alcatel OT-660.