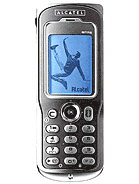 b
Looks cool and loaded with features.Any idea of the price?
D
Does Alcatel have any phone that compares with the Nokia 9210i ?
q
Doubt if its worth it!!!Add a colour display and MMS capability, maybe then the masses will start taking note.
P
such a great phone from the frenchman..
good thing alcatel phones depreciate severely over a short period of time, itt'l be half the price in half a year:-)
j
It is going to asian countries other than china or hongkong?!
A
It is the best phone ever , but its price is very high and it havent a color display .
Total of 66 user reviews and opinions for alcatel OT 715.