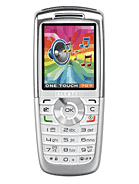 ?
I'm the 12th who post here.
i think this one is a good phone, it's cheap and so you can't expect bluetooth.
What I don't like is the memory - only 4 MB. That's stupid, Alcatel.
K
I compare it with ot756, somehow the standby hour is bit longer but talk time is about half only!
I wonder why!
maybe the spec is draft only?
M
Fortunatelly it's the same phone as 756, but only with different design. I like my 756 more than this common-looking phone
Total of 72 user reviews and opinions for alcatel OT 757.