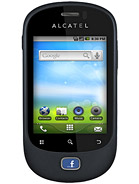 d
AnonD-32268, 26 Jun 2012I don't understand somthing, if this celphone have 3G,way isn't on the specifications????yes, I'm the owner of this phone and works well in 3G (data and voice) as well as in GSM (I use it only for voice)
G
the user manual from the manufacturer says the phone has:
Bluetooth 2.1
802.11 b/g/n

?
Great deal! I prefer this expression instead of "great phone". It is indeed a great phone, but also a great deal, attending to the features it has: GPS, WIFI, HSDPA in a android OS SMARTphone only for 45€ on OPTIMUS (PT). Of course it is not a Blackberry or a Iphone, but it worth a lot more of 1/10 of their price! The "cons" (for the price i´ve paid i suppose there is nothing i should complain about, but...), are the only 2mpx camera, the OS version only 2.1 and the "big, blue F button in front" - a shortcut to facebook app and a shortcut to people think you are a facebook NERD everytime you pull out your phone :D I just bought this phone because i broke my "crappy" LG Arena and i needed something fast and cheap to use immediatly, it was supposed to be a temporary phone but i´ve been using it for the last 2 month and still happy... It will serve you if you want a cheap phone with lots of features. You will be disapointed when you upgrade from this phone to a more expensive one with the same features.
D
I don't understand somthing, if this celphone have 3G,way isn't on the specifications????
D
AnonD-48142, 09 Apr 2012gr8 phone my friend !it is the smartphone with the best raport price/performance (now you can find it on Orange)
however, when I'm in the garden I fell the Wifi n missing on that phone... the Android Games/application/video easy to install -and, what is great: the games are working perfectly -the sound it is also great
Total of 10 user reviews and opinions for alcatel OT-908F.