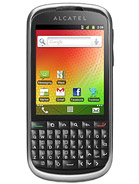 ?
How do I get picture messages to come thru on my text?

?
How do I send picture messages
?
How do I change the background
?
How do I Change my background I hate this stupied phone
?
this phone's great. I'd rank it up with the top qwerty candybar phones out there. People who are saying museum need to read the facts and not compare it to touch-screen phones without keypads or even slider phones.

A
Anonymous, 16 Feb 2012somebody show alcatel the way to the musuem......LOL.I agree to the museum
?
Alcatel copy of lg optimus pro
?
Ahhh i want this phone badly :( even though i still love my ot 990
a
finally hardware buttons (answer/dismiss call)! finally!
?
somebody show alcatel the way to the musuem......
Total of 11 user reviews and opinions for alcatel OT-915.
ADVERTISEMENTS