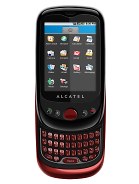 D
This phone is awesome!
Why is Alcatel going to release it in June? They could anticipate it to April...
D
Also, this is really a complete phone...with everything useful inside, and nothing superficial..definitely a sleeper hit!
D
This is the way to do it Alcatel...copy the best from other manufacturers then make it cheaper and better. copying is the sincerest form of flattery
Total of 188 user reviews and opinions for alcatel OT-980.