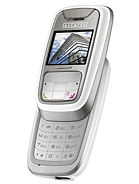 v
Well..for dur sake of joinin the sliderfon's club, i guess dis Alcatel OT-E265's der mobile...
?
I used to have a Siemens SL-56, this phone is very similar in design and features. Nice phone but this company needs to be more innovative and not just copy an obsolete phone that you can buy of ebay for less than $150.
W
hey miny i do guess your loosing the whole picture "sorry" at the first place what are mobilephones are for???? ofcourse if you do wanted to have an complete CP then beter expect some high investments thru it... ha! guess what

?
Alcatel in general make the best designs but have the worst features, I hope Nokia hire Alcatels designers, Nokia needs some improvement in their designs.
F
WoooAAAoooooo!! This Alcatel (OT-E265) is really fantastic and fonastic. It's cool there is a cool move-away from the old, masculine none fashionable styles. This looks slicky and sexy
Total of 27 user reviews and opinions for alcatel OT-E265.