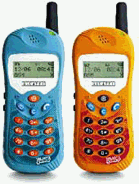 S
Optional, 14 Jun 2016I will return this phone and will never buy alcatel ever again! The camera isnt working anymor... moreI do hope you were just being sarcastic. :D
O
I will return this phone and will never buy alcatel ever again! The camera isnt working anymore after the marshmallow update! Piece of crap!
A
Alcatel OT Gum db is my first phone when i was 14 years old...i use to love this phone...realy...
b
ma sister's first phone in 2000,she bought it with R800 by tha time it was expensive
j
Hi, i used to have one of these. Its not half bad. I used to think that the build feels a little bit cheap but it does the job.
k
i used to love this phone. Looks funky, works fine, good loud speaker. and bounces when dropped. If only the could do the same phone with a camera..............
T
Hay Lizzie J: they are on Trade Me for $12 lol dead cheep, www.trademe.co.nz
G
it's a stupid phone.it keeps turning on and off if it's too hot or too cold outside and other silly stuff...
no good at all...
L
Hi
How much does the alcatel one touch gum db cost in New Zealand dollars?
kind regards
lizzie
Total of 15 user reviews and opinions for alcatel OT Gum db.