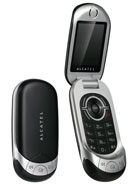 K
For info and questions about this handset, please email me un112@msn.com.
N
For those who want to have the user guide or manual of this phone kindly get in touch with me at nelson_maus@yahoo.com and I'll provide you the soft copy.
K
Available in the Netherlands as of this month on KPN. Very good phone! With excellent battery power and FM RDS radio.
Total of 65 user reviews and opinions for alcatel OT-S319.