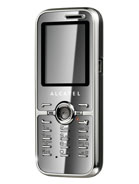 s
hi i have just got a alcatel OT-S621 dose any 1 know where i can get a manul for this phone if so email me at shane8819@hotmail.com
K
Ok people... I got a very special question to you all. As you know Alcatel cares a lot about user feedback... and you have provided that plenty to them... and please keep doing that!

Now however I have something else for you, the future. I mean... what would you like to see in the future from our beloved Alcatel brand. I am asking you people to send me your suggestions for Alcatel and I will forward them directly to the Alcatel product development and design team. You can send me all sorts of suggestions. If you have great ideas for design... show me... if you have certain wishes for technical specifications please let me know... is there a feature you would like to see in the future, email it to me and maybe there will be a new model soon which will have it. You shall have to be realistic in your proposals though... asking for a 10 megapixel camera with 1080P HD recording for instance will not be considered serious and disregarded. Also... if you have a bright new idea which could be nice to add to a phone email it to me and it might end up being used one day.

Email all of your ideas and suggestions to my email un112@msn.com. Please use the subject "Alcatel Future Proposal".

DISCLAIMER: This action was NOT set up by Alcatel Mobile Phones/TCL or any of its related companies, it was set up by me an Alcatel fan! Submitting ideas does not guarantee that the ideas will be used in the future phones by Alcatel or any other brand. The submitting of ideas is done by your own free will. By submitting ideas you agree to distance yourself from any rights to the idea and will not take legal court action (to obtain financial gain or rights to the idea, among other things) if the idea does or does not get adopted in the future. The idea may be adapted at any certain point in time with alterations and without notification. This is only meant to exchange creative ideas! For more questions about this action please email me on un112@msn.com.
K
People who want value for their money and not an don't want an overpriced phone with features that do not work or never get used, they buy these phones.
K
2 years ago when Alcatel started using the new S, C and E designations they stood for Smart, Comfort and Easy... but now they do not anymore. Now all they do is make a cool sounding name.
K
Don, the S series of Alcatel is now not defining "smart" its actually the higher the number the better the specs!
Total of 74 user reviews and opinions for alcatel OT-S621.