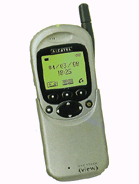 i
Kind of a shame that no one has heard of this phone nowadays.
k
Me, 25 Feb 2013It worked with Cyrillic script too :)A nafig?
M
It worked with Cyrillic script too :)
2
I love this phone, I use this in many ways I throw this on on noisy irritating cats. I even tried to smash this on our neigbors forehead and it works he has problem sleeping but after i smash this phone on his forehead he slept all day Thank you alcatel ..
J
I like this phone so much that I kept it. It's still working, but not fine, the screen is dead, and I can only call, while back in 2001 the phone was brand new. That were the good old days. I have enough money to buy a new phone, but I won't do that, because I love it just so much. Other business people have Nokia N92's or Sony Ericsson K600's.
C
Most alcatel seem to be fairly user friendly but I don't find it so with the . I inherited one with no user manual and find it impossablr to work out the sending and recieving of tx message. Could you help with an instruction manual at all please.
Thanking you kindly,
Colleen Burke.
B
this is the most complex mobile phone I have ever used - NOT USER-FRIENDLY!
e
i would like to buy one of this telephones.e-mail me pls.
s
everything is okay.But I cannot send the same message to another persons choosing from phone book.How can I do this.anybody knows?
p
this phon is pretty cool for an older model
Total of 10 user reviews and opinions for alcatel OT View.