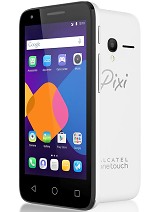 c
ain, 17 Jun 2015Just bought today... but the battery run out so fast.. Just used for 15 min and the battery ha... more Downside : no auto focus , does not support OTG , hv to press on/off button to take screenshot , best part is it very cheap for smartphone with 8mp rear camera :)
c
Mazarul, 06 Jun 2015It Can Support Clash Of Clans And The Android Virsion Is 4.4.2 Kitkat , Always Dosen`t Hang Or... morego buy at lelong.com.my , already hv screen proctector , tpu case , flip case.:)
a
Just bought today... but the battery run out so fast.. Just used for 15 min and the battery has gone 20%.it made me felt regret on buying this phone.. My advise.. Dontbuyit
y
MrZack, 02 Jun 2015hello. im use Alcatel pixi 3 (4.5) 4027N , why this model dont support auto focus? and where i... moreHi bro..u can buy at Aliexpreess..tq
M
mr dart, 30 May 2015cant support clash of clans?It Can Support Clash Of Clans And The Android Virsion Is 4.4.2 Kitkat , Always Dosen`t Hang Or Laggy For Me.. But I`m Finding Assecories For My Mobile Alcatel Onetouch Pixi 3 (4.5) Only The Screen Protectors And Cases/Covers.. Malaysia

Reply If You Can Help Me
M
hello. im use Alcatel pixi 3 (4.5) 4027N , why this model dont support auto focus? and where i can buy this phone cassing and screen protecto . ?
im from malaysia... tq
D
loo, 22 May 2015I just bought a 3g version in Kuala Lumpur Malaysia. For a price of RM148 (about 35 us dollar)... moreHi Bro, have you tried the Camera? Is AF functioning? Just curious as the spec said it does. Thanks :)
D
Hi all, Can I know whether the camera for this phone has Autofocus as mentioned in the spec? because when using the camera, the AF does not seems to be functioning the pic kinda blurrrr...thank you :)
l
I just bought a 3g version in Kuala Lumpur Malaysia. For a price of RM148 (about 35 us dollar) which include one month free 500MB data from local telco, it is a value buy.

It is smooth enough for normal usage with few social apps and few dictionaries installed. it has 2 normal sim card slot. I need to use adaptor for my nano card but it is not recommended as the adaptor may damage the sim contact pin.

Picture is soso only. Have not try it under the sun.

The whole phone is made of plastic and screen viewing angle suffer wash out colouring if not look it straight.

over all, a usable budget phone.




Total of 171 user reviews and opinions for alcatel Pixi 3 (4.5).