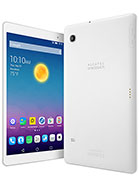 N
Eug, 05 Mar 2016Hi! Help me anybody! I need original firmware on tablet Alcatel one touch pop10 p360x. Where I... moreInbox - novelem@gmail.com, I had the same problem. i know how to fix it

E
Hi! Help me anybody! I need original firmware on tablet Alcatel one touch pop10 p360x. Where I can find it?
d
i have a problelm in my phone i can open it but i couldn't see my apps, whats that how can i open it pls help me.
s
Vodafone is now offering Vodafone Tablet Prime 6 which is customized vf branded version of POP 10. They offer it with 16GB memory, but without magic flip board.

I havent seen any accessories for Vodafone branded version yet, so I hope that Alcatel will release their ones to eastern europe soon.

Regarding the first impression (even there is different branded vf ROM - but its and 5.0.2), I think it is smart choice. Battery drain is not huge, the screen is average, but when considering the price, it is much above expectations.

I didnt had issues with rooting of the device with iRoot application, its also possible to flash twrp, but you have to find at xda the correct version.
No issues with virtual ROM switch too (need to find xda process for it)

So, if you are considering to buy this tablet, I would recommend to go for Vodafone one if you dont need the keyboard (yet =)).


A
King D", 10 May 2015Is it now available in Africa? is it on market?Yes, available now in Kenya in Safaricom
D
AnonD-326595, 10 Jan 2015Although the Optional mobile dock with standard QWERTY keyboard and trackpad does sound intere... moreWhat exactly do you mean the phone is heavy? Why a tablet that able to use as phone is such a strange idea? You probably picture it someone running around with a 10" tablet on its ear right? Have you heard about Bluetooth?
D
Although the Optional mobile dock with standard QWERTY keyboard and trackpad does sound interesting, but the phone is heavy.
Total of 12 user reviews and opinions for alcatel Pop 10.