We don't hear Alcatel's name that much often anymore, but they're still around and they have nice entry-level Android offerings, like the new Alcatel Blaze Duo OT-918N. As the name suggests, it's a dual-SIM, dual-standby device.
The phone has a twin - the OT-918D. They differ in 3G frequencies (and the regions they'll be available in). The OT-918N uses 850MHz/2100MHz for its 3G connectivity, while the D version uses 900MHz/2100MHz instead. The 2G connectivity is quad-band.
Other than that, they share the same specs. Don't expect much of them though, they are really low-level entries - they run Android 2.3 Gingerbread on a 650MHz processor with 256MB RAM, the screen is a 3.2" LCD with HVGA resolution, and there's also a 3MP camera, A-GPS, Wi-Fi b/g/n, Bluetooth 3.0 and A-GPS to complete the tally.
The Alcatel Blaze Duo phones pack two SIM cards in an interesting way - they both go in the same slot, just the first one goes face down and the second one goes face up. They are regular SIM cards (not microSIMs).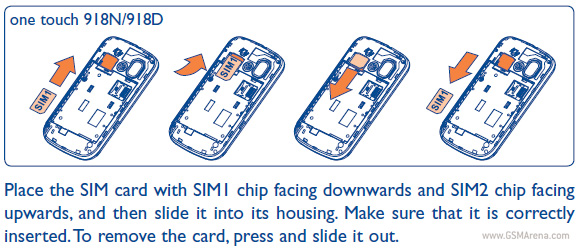 The Blaze Duo OT-918N is available right now in the Philippines 6000 Philippine pesos (about $140/€105). The 918D is available in Australia for $179. Note that those two are probably available elsewhere too, but there's no complete information on availability - if you find either of them somewhere else, drop us a line in the comments. Also, there's a single-SIM version of the phone called just OT-918, so make sure you're looking at the right version.
Thanks to Egon Gonzales for the tip!
D
I have Alcatel Blaze Duo OT_918N. I am using dual sim, one which I am using here at Hawaii with T-moible provider and a TM sim which I registered back in the Philippines for roaming services. When I arrived here at hawaii last November 1, I could n...
D
Here's the official Alcatel site in the Philippines for those who haven't seen it yet. URL: http://www.alcatelonetouch.com/ph/products/andorid_smartphones/ot-985n.html
D
I have been looking for a dual SIM business phone for at least 2 years but they all were poor, so I just had to keep using 2 separate phones. Then a few weeks ago 1 phone broke, so I needed to replace it. I then decided now was the time to get ...
ADVERTISEMENTS