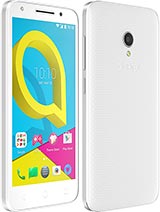 ?
well its a good phone for the price
it doesnt stuck or freeze like no name phones with the same price range
have a nice finish and dont look cheap
works with 4g

downside :very thick , its even thicker than iphone 4 but its an alcatel so its normal
werid big button icons
screen to body ratio is very low
battery is small for a device of this size


b1
it's look great this phone im using in 3days from now. i'll get this phone a plan in sun cellular and i don't know what the price of alcatel u5 now.
K11
Gday all,
My first smartphone ever, upgrade from 2G was done promptly in the shop (*). Easy to learn, easy to use, easy to connect up to my PC, easy to install an app - and it did the task I needed it for, as well as the expected features. I'm happy, although I have no real comparison.
(*) When I first started as a tech geek, a PC upgrade meant an order from abroad, weeks, then soldering it onto the PC board.
A
I really like Alcatel brand and when I tried this Alcatel U5 I was little bit puzzled, and possibly expect too much on this unit just for a week of using it. The battery life is easily drained just after 6 hours on standby mode, I already checked and optimized all the apps just to maximize the life span of the battery. However I was amazed on how fast the connection between WIFI and Data Connection. It really nailed to core for those who wants fast and reliable connection. Well, for me, that's it... :-)
A
I bought this phone 2weeks ago and its really great and affordable. I really enjoy this phone. long battery life and very fast processor and clear camera.
J9812
Why is this phone 10mm's thick?
It doesn't have the battery to back that up nor does it have any other specs to make it that thick.
I don't get it alcatel.
Total of 26 user reviews and opinions for alcatel U5.