Announcing the All New HTC One (M8) on March 25 rather than the MWC doesn't seem to be paying off for the manufacturer – its upcoming flagship can't go five minutes without info leaking from somewhere. The latest shows photos of the Verizon-bound version of the One successor.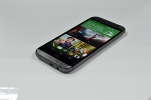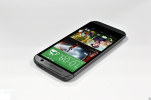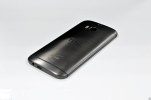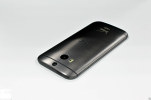 All New HTC One with Verizon branding
Note that these photos are of an in-store dummy rather than a working device.
We already know what the second camera on the back is for and have most of the phone's specifications. By the looks of it, the All New HTC One will have a 5" 1080p screen, Snapdragon 801 chipset, 4MP camera on the back and a 5MP shooter on the front.
Anyway, we've already seen the All New HTC One (this name is going to get tiring fast) with AT&T branding, so it seems that US carriers are covered.
Source (in French)
D
That was the stupidest thing I've read on the internet all day, and I'm in Egypt and we're pretty late in the day. The new HTC One will probably be the best all-around android phone for 2014, just like 2013. P.S.: I own an iPhone but if I e...
D
@dzlgfcb: You are such an obviously blind HTC fanboy it's actually hilarious.
a
Well if you know something about metal you must know that alu is the lightest metal there is . So if you wants you phone to be lighter you must consider the usage of other materials . Now having a phone that weights more aint fun for your pants becau...
ADVERTISEMENTS