All-black BlackBerry Keyone now available in US, gets new official video as well
As scheduled, AT&T has started selling the all-black BlackBerry Keyone smartphone, making it the first US carrier to do so. The device - which the carrier is calling the Space Black edition, and comes with memory configuration (3GB/32GB) similar to the standard silver model - is now listed on the official AT&T website for $500. You can also get it for $16.67/month.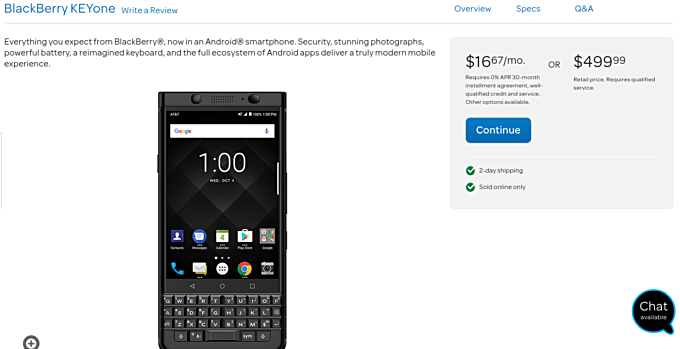 BlackBerry calls the device 'Keyone Black Edition.' It has only been available in India so far, but that changes now. At the ongoing IFA conference, the handset was made official for global markets, following which it went on pre-order in the UK.
Meanwhile, a new official video for the variant - which also features upgraded memory configuration (4GB/64GB) - has been outed by BlackBerry. Check it out:
E
Well that would remove the only real ace they hold. They are the last one standing selling phablets with keyboards. But as you can see in other news, Blackberry Mobile (TCL) are actually expected to release a touch-only phablet in October: http://www...
D
can they just remove the keyboard already and make it simply a whole touchscreen?i think were in touch generation.
E
Here a more detailed story on the three black variants: https://crackberry.com/black-edition-vs-space-black-vs-limited-edition-black-blackberry-keyone-say-what