Benchmark results of what is alleged to be the upcoming Galaxy S IV have appeared online. The results have been uploaded on popular benchmarking tool GLBenchmark's website, which also lets us compare it with some of the other devices around.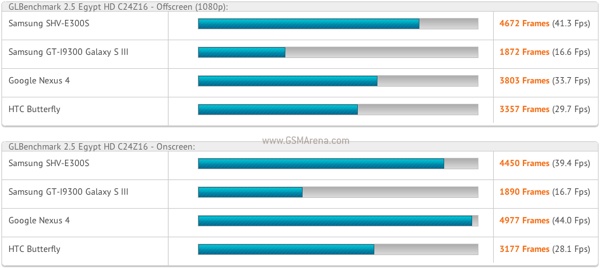 The phone in question has a model number SHV-E300S, which indicates it could be the South Korean variant of the device. It's also running on Qualcomm's MSM8960 chipset, instead of the Exynos processor Samsung usually uses in its phones.
As you can see from the graph above, the SHV-E300S decimates the competition and last year's Galaxy S III in both the offscreen and onscreen benchmarks. The Nexus 4 nudges ahead in the onscreen tests but only because it has a 720p display compared to the 1080p display on the SHV-E300S.
This is probably not the international model that will likely have an Exynos processor, which could be even faster than the MSM8960 we see above (which is no slouch, either). We are likely to see more of these crop in the near future as we approach the launch of the phone.
?
You wanna go down history? Tell me something about Samsung's bada os. Arc s vs s2? Samsung s2 suck even sucks more on JB. While arc s is smoothly sailing on ics. Btw samsung phones cant support apps2sd.
R
How you manage to troll on my comment is amazing. I dont have an iphone 5 i have a 4s. And it doesnt scratch at all, in fact i've had it for 16 months and it looks like i've just taken it out of the box. its called looking after the things you ...
?
Don't know where you got your information from. Dragontail is 5 times stronger than typical soda lime glass. Corning Gorilla Glass 2 is not of the soda lime type so Dragontail is definately not 6 times stronger...
ADVERTISEMENTS