Huawei Mate 9 is rumored to go official this September at IFA as the company has a scheduled press event for the expo. Sure, there is this other rumor saying the Mate 9 won't appear at IFA, but we are hoping for the best.
The GFX Bench database has turned out to be a valuable source of information when it comes to unannounced devices and their specs. Today an unknown Huawei smartphone appeared in its database and it might be the Huawei Mate 9.
The mystery phablet has a 5.9" display of 1080p resolution, though we've seen GFX get the size wrong. The chipset information is what hints towards the Mate 9 though - HiSilicon Hi3660 with an octa-core processor and Mali-T880 GPU.
Huawei P9 series was powered by the Kirin 955 chip, which has a serial number of Hi3650, while the 3635 stands for Kirin 930 and 3630 for the Kirin 920. This means the Hi3660 is a new generation Kirin SoC. Its processor is more powerful than the one inside the Huawei P9 (2.5GHz) peaking at 2.6GHz. The GPU is the same, though its core count may have been increased (fingers crossed).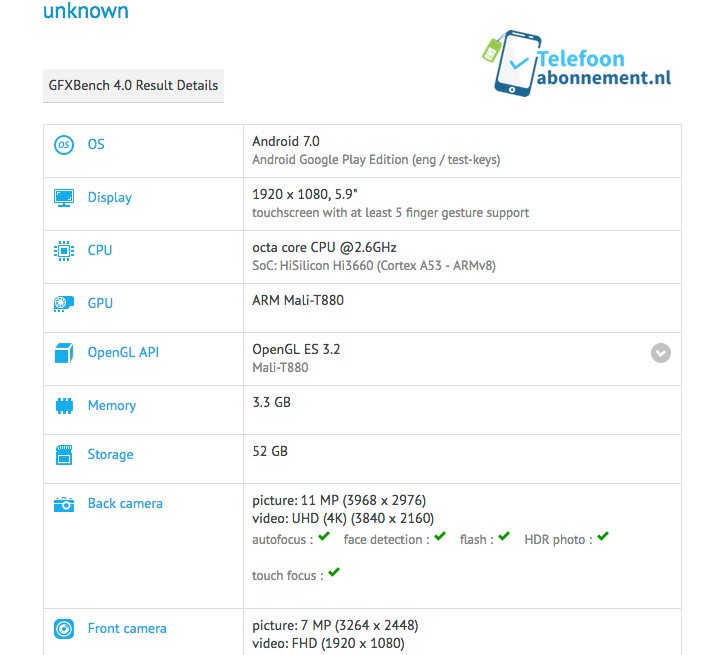 The rest of the leaked specs include 4GB RAM, 64GB storage, a 12MP main camera and an 8MP selfie snapper. The main camera was previously rumored to be 20MP, but we've also seen discrepancies with the GFX readings on pre-release devices, so don't trust those blindly.
Huawei is hosting a press event on September 1 in Berlin and will be showing new smartphones. You bet we'll be covering it live for you, whether Mate 9 is present or not.
D
Now using Mate 8 and LOVE IT !! Seems Mate 9 is not much better than Mate 8, if not a bit worse :-(
r
Hopefully mate 9 will be more powerful than P9 so let's wait to see. You should increase the battery to 5000 mAh.
N
Maybe is the Mate S II ... not Mate 9.
ADVERTISEMENTS