According to the Japanese publication Mac Fan, Apple will release a 12.2" iPad Air Plus in the spring of next year. The report is featured in the magazine's January 2015 issue and includes alleged details about the upcoming slate, including a blueprint with physical measures.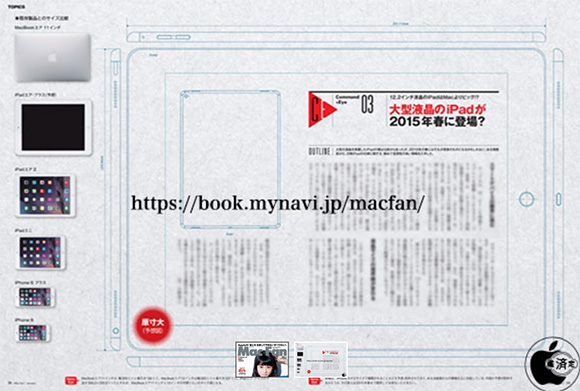 Apple iPad Air Plus will unsurprisingly sit above the iPad Air 2 when it launches. Purported measures of the previously rumored device are 305.31 x 220.8 x 7 mm (12 x 8.7 x .28 inches). The slate is said to feature Apple's next generation A9 processor.
The potential launch of a 12.2" iPad would make sense considering Apple's latest product launches. The company delivered a significant upgrade over last year's model with the iPad Air 2, but barely touched anything with the iPad mini 3.
Apple's Lack of attention towards the compact slate makes sense with iPhone 6 Plus in the marketplace. As we found out earlier this week, people fancy their large-screen iPhones a lot more than their iPads.
One thing we wonder about is what will happen with the MacBook Air family if a 12.2" iPad launches. Our guess is that Apple might simply merge its MacBook Air and Pro families into a single product range in order to make space for the massive iPad Air Plus.
?
Too big...Tablet should be 7 - 9 inch.
?
"Apple needs to make this happen since both iPad and Macbook Air are being killed by the likes of Surface Pro 3." How is it that you guys can simply make up a statement based on nothing, and then fall for your own lies? Lol its hilario...
?
Actually looking forward to this.