Alleged pricing of the yet to be revealed Apple iPhone 6 made the rounds online. The leaked numbers reveal the potential price tags of both the 4.7" and the 5.5" model.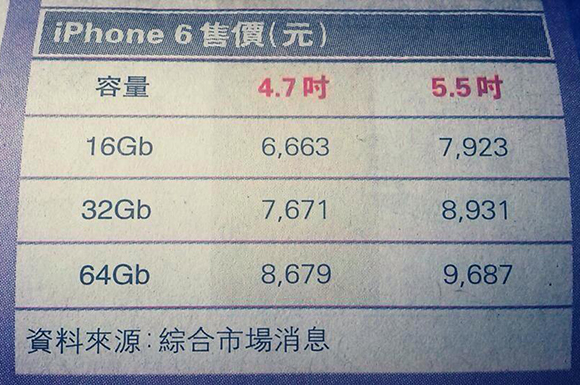 The Apple iPhone 6 with 4.7" display will purportedly cost 6,663 HKD ($860), 7,671 HKD ($990), and 8,679 HKD ($1,119). The aforementioned prices are for a device with 16, 32, and 64GB of built-in memory respectively.
The iPhone 6 with 5.5" display is unsurprisingly even more expensive (it is rumored to have more powerful hardware on board). It is reportedly priced at 7,923 HKD ($1,022) for a 16GB model, 8,931 HKD ($1,152) for a 32GB unit, and 9,687 HKD ($1,250) for a device with 64GB of onboard memory.
US pricing of the devices is unclear. However, considering the current difference between price tags of the iPhone 5s in the United States and Hong Kong, it is fairly safe to guess that the 16GB iPhone 6 with 4.7" might start at $799, with extra $100 required for each jump in memory. The larger model is bound to carry an even more eye-watering price tag.
Apple is bound to unveil the next iPhone in less than a week, so we won't have to wait too long for official pricing. In the meantime, take the above numbers with a small pinch of salt.
?
There is no iphone6 32gb.
?
Iphone have to kill only smartphone for any specs, 1. Iphone 6 have better brightness and sharpness display screen of Nokia, Samsung, HTC and LG, 2. Iphone 6 have better body desing of Nokia, HTC, LG.. 3. Iphone 6 have faster processor of Noki...
?
Aw poor guy, you must be using a low end Android device like the galaxy young I'm using, you should try a higher end one like the S5 for example or the Note 3, maybe? If you do, your life would feel much better, I'm sure! ;)
ADVERTISEMENTS