FCC has always been a good source to find bits of info on upcoming and unannounced phones, if you know where exactly to look. Well, the guys over at PhoneScoop hit the gold with the pictures of alleged LG Nexus 5 flagship.
This phone already leaked before at the Android 4.4 KitKat announcement posing in some developer's hands. Today the FCC photos reveal the same device sans the Nexus logo. It looks a lot like the Nexus 4 at the front, while the matte back might be a camouflage for the real deal as shown on the previously leaked picture.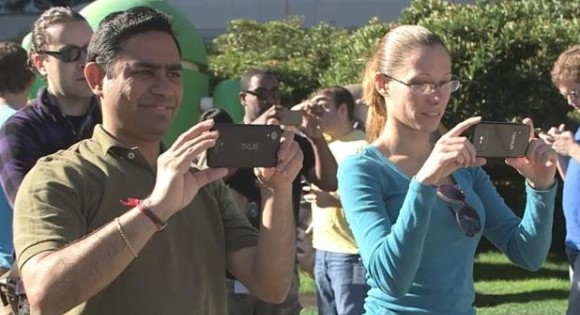 A photo from the Android 4.4 KitKat announcement supposedly showing the Nexus 5
The FCC documents reveal the alleged Nexus 5 will feature a 4.96" display, most probably of 1080p resolution. We guess if LG is indeed the next Nexus manufacturer, the specs of the device will be based on LG's G2 - a Snapdragon 800 chipset and a 13MP camera. We bet sweet Android 4.4 KitKat will be in charge of the smartphone.
We expect Google to detail both Android 4.4 and the Nexus 5 next month.
M
I would consider nexus 4 if nexus 5 was packing a snapdragon 600. But we all know the performance gap there is between s4 pro and snapdragon 800. i will wait for the nexus 5 even if it comes out next year!!! lol
A
no doubt it will be awesome. but then Nexus 4 is still a very good phone. and now the price at £159 uk. well its a no brainer buy it.!!
D
No one going to believe what u said ..... Anandtech said nex4 best 2012 gaming smartphone..and so nex5 Will be the king again for 2013...kick the s4 and note3 in the face.. Google has special secret optimizing ....look moto x...just dual core b...