A 'Nokia' branded smartphone has received certification from the Federal Communications Commission (FCC) in the United States. While the listing doesn't reveal exactly which handset it is, reports say it could well be the Nokia 6.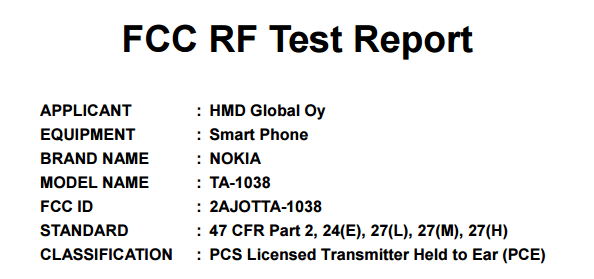 The assumption is based on the fact that the device the agency has cleared carries a model number of TA-1038, while the Nokia 6 carries a model number of TA-1000 for China. If the phone in question is indeed the Nokia 6, then it would be reasonable to assume that its US launch isn't far off.
D
After watching JerryRigEverything's Nokia 6 durability tests which included scratching, burning and bending, I must say the Nokia 6 is definitely built like a real Nokia and the build quality seems pretty good. I remember my Nokia N8, damn it was bui...
?
it's Nokia 6 US version, FCC is for US and CCC is for China
ADVERTISEMENTS