The upcoming iPhone 5S keeps leaking piece by piece – we've already seen the frame of the screen, now the whole front assembly has been photographed. Put alongside the front assembly of the current iPhone 5, there's barely any noticeable difference.
The screen size and the bezels are exactly the same even the positioning of the earpiece, front-facing camera and the sensors seems identical. The flex cable that feeds the display and digitizer have been redesigned, which suggests the internals of the iPhone 5S have been moved around.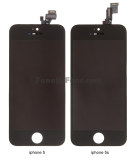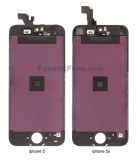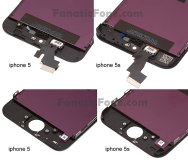 Front assemblies of iPhone 5 and (allegedly) the iPhone 5S compared
There are other minor changes visible on the back of the assembly, but nothing that would suggest Apple will unveil a new design. Or this could be the cheaper iPhone that the rumor mill has been buzzing with. Or it could be fake, of course.
FanaticPhone, the site that posted these images is promising a video comparison of the iPhone 5 and iPhone 5S front assemblies.
?
I'm all innovated out with all of this Apple innovation.
?
Not to mention like when the 4S came out it had the most crashed apps of all systems. Or that fact that since at least September all Iphone models that got the latest IOS updates have had issues. 4, 4s, and 5. Note every model type not everyone ...
?
Simple; yes. High quality; no. Have you already forgotten all the problems with iphone 5 when it was first released? Some phones DOA, light leaks, scratched/dented backs on the black models and wi-fi not working. Don't forget the maps fiasco. ...
ADVERTISEMENTS