While Apple successfully managed to be tightlipped about the iOS 7, it looks like it's not having the same luck keeping the upcoming iPhone 5S a secret. Two new images of what claim to be the next generation iPhone have surfaced and show us what we had already guessed; it's going to be a spec update over the current iPhone 5.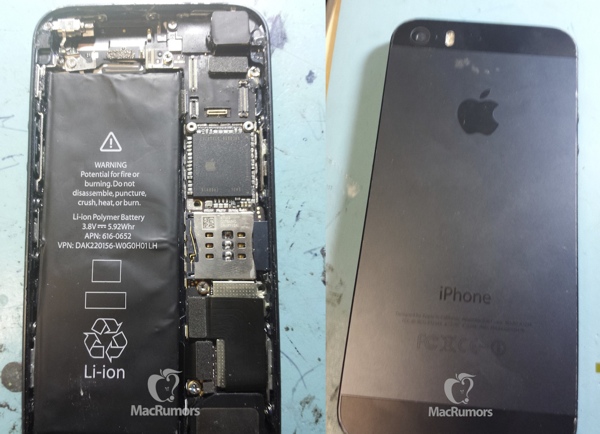 The image on the left show the redesigned internals with a new logic board that matches one of the previously leaked images, which gives it some credibility. The 5.92Whr battery is bigger than 5.45Whr battery on the iPhone 5, suggesting improved battery life.
The image on the right shows us the new LED flash next to the camera lens. The shape has changed and now there are two LEDs under the lens. The rest of the design is identical to the iPhone 5. Also, as you can see from the edges, this device shares its affinity to scratches with the iPhone 5, although that may not be the case with the final version.
The iPhone 5S is expected to go on sale later this year. As can be seen from the images above and using the previous iPhones as reference, it is not going to be a completely redesigned product but more of a faster, more refined version of the current iPhone. So it's best to adjust your expectations accordingly.
?
Oh I was not looking. Just read what they said.
?
Li-poly and Li-ion poly are two names for the same battery technology.
ADVERTISEMENTS