Just yesterday, Razer posted a teaser on Twitter about an event that it would be holding on November 1 where it will allegedly be announcing its first smartphone. The company acquired small startup smartphone maker, Nextbit, back in January and the upcoming event will reveal what a gaming company can do with a smartphone form factor.
Anyway, the news here is that the unreleased smartphone's specs have leaked from GFXBench revealing a Qualcomm Snapdragon 835 CPU paired with 8GB of RAM. There's also a 5.7-inch display with a resolution of 2560 x 1440 px. This resolution indicated a standard 16:9 aspect ratio display. There is also 64GB of internal storage.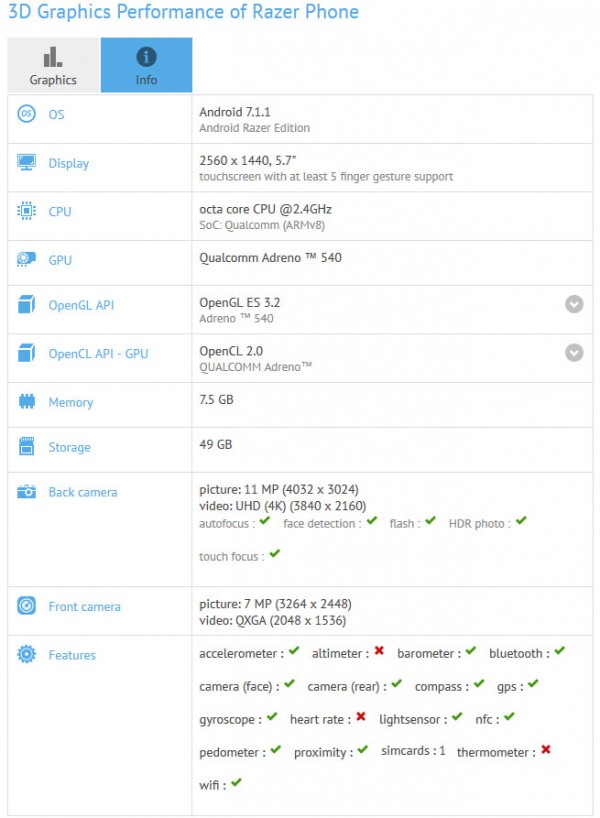 Camera-wise, the Razer device is packing a 12MP main camera with an 8MP front-facing one.
The phone tested features Android 7.1.1, though it's still too early to know whether the phone would ship with Nougat or Oreo since the device tested is plausibly a pre-retail unit.
Razer already makes pretty attractive-looking hardware, so we're excited to see what Razer has to show off next month!
?
5 finger gesture support? For a said "game-centric" device a 5 finger gesture support is a bit least doubtful. Almost all smartphone now a days, even those who falls in the mid-range have 10 finger gesture support for a better touch and response expe...
?
8GB RAM I think has a lot of impact here, regardless of chipset used. We also need to see if Razer has any specific accessories planned around the phone. These are likely the key differentiators determining whether it will be a hit or miss. Her...
ADVERTISEMENTS