Alleged rose gold iPhone 7 rear case leaks showing single camera, new antenna lines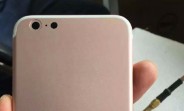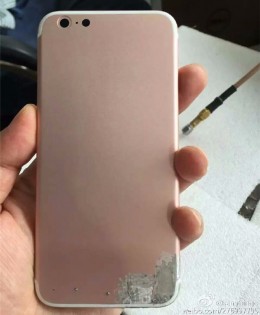 The latest iPhone 7 leak comes from China (as do most of them really). A picture showing what is purported to be the handset's rear casing has been leaked, and you can see it to the left. This is the shell for the rose gold color version of the upcoming iPhone, which means Apple won't give up on the pinkish hue this year.
You can see the revised antenna lines on the leaked case. The position of these lines up with what basically every single leak and rumor about the iPhone 7's design has said so far, so at this point it's hard not to believe that this is what Apple is going for with its next smartphone.
There's a single cutout for the camera, alongside one for the LED flash, so if Apple will launch a dual-camera assembly this year it will be confined to the iPhone 7 Plus - again, as has been rumored countless times already.
As usual, Apple should unveil the new iPhones at an event in September. They might come with 32GB base storage, as revealed yesterday.
D
I beg to disagree. Android SoCs are doing catch-ups to an almost-a-year old Apple a9 yet it makes you wonder its surpassability on overall CPU/GPU race. No matter how beefy an Android SoC would get if the Android OS isn't talking the way its ha...
D
Hmm. In my perspective, the real problem in the Android world lies in the hardware and OS issue. If Android talks in the manner the hawrdware does, it's a win-win for Android boys. On the other hand, Apple has its own kingdom: Hardware is made ...