Now that the Galaxy S5 is already official and headed to the shelves, Samsung is finally able to shift its attention to its stablemates. It appears that the second smartphone to join the Galaxy S5 lineup will be the camera centric Samsung Galaxy S5 Zoom.
A new leak has arrived, detailing the smartphone-slash-portable camera specs. The information comes from a presentation, where unfortunately photos weren't allowed so we'll have to make do with some hand-written notes. Normally we wouldn't pay much attention to such rumors, but we managed to confirm several bits of the info with sources we know are trustworthy so we are willing to give it all the benefit of doubt.
Anyway, the biggest change brought by the Samsung Galaxy S5 Zoom will be a slimmer body with no protruding lens. Samsung has obviously implemented some sort of internal zoom that we've seen on many compact digicams to keep the size in check this time.
The smartphone will also feature a bigger 20 MP CMOS sensor with optical image stabilization and while it will lose the hump it will still come with 10x optical zoom.
Another worthy improvement seems to be the bigger 4.8" display of 720p resolution. There will be Android 4.4 KitKat on board, 2 GB of RM, quad-core 1.6 GHz processor and a Xenon flash. Previously we heard an Exynos 5 Hexa with six cores will power the device.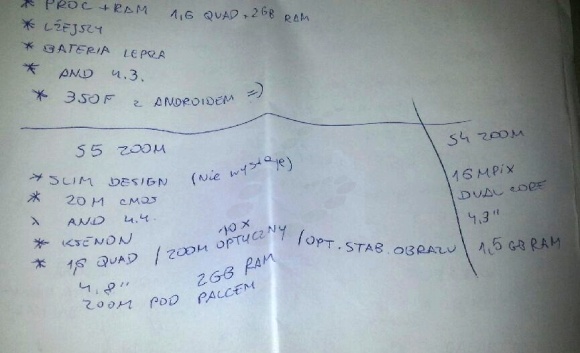 The design of the device isn't disclosed but we could bet on leather-mimicking plastic along the lines of the Galaxy S5 or the Note 3.
As before aside from the shutter button Samsung is expected to include a zoom ring but this time it will be placed under your thumb rather than around the lens.
There's no word on pricing or availability but our ninjas say we're going to see the device go live next week.
The Galaxy S4 zoom sported almost identical specifications as the Galaxy S4 mini - a 4.3" Super AMOLED qHD display, similar design but came with a lower-grade dual-core Cortex-A9 processor so the Galaxy S5 Zoom seems like a very worthy upgrade.
?
Agreed. Dual sim for a phone that is supposed to be a travellers camera phone would have been a good move on their part.
J
When Samsung make an S6 Zoom with Duel Sim Cards... That will be the perfect phone to capture the market.
?
"the Samsung Galaxy S5 Zoom will be a slimmer body with no protruding lens" please let it be a sensible size! The S4 zoom was too much of a 'fatty' for me to use as a daily device - shame as a good phone and camera. Not sure about the ide...
ADVERTISEMENTS