Okay, the September 14 rumors didn't pan out, but perhaps the Xiaomi Mi Note 2 will launch on September 27 alongside the Mi 5S. A Weibo user posted a screenshot of Note 2's About screen, further stocking such rumors.
The screenshot shows that the LG V20 is about to have some company and that the OnePlus 3 is about to be dethroned.
Assuming no funny business happened to the screenshot (and that's a big assumption to make), the Xiaomi Mi Note 2 will run Android 7.0 Nougat and will have a whopping 8GB of RAM. Also, the built-in storage is an impressive 256GB - not unheard of like the RAM, but quite rare.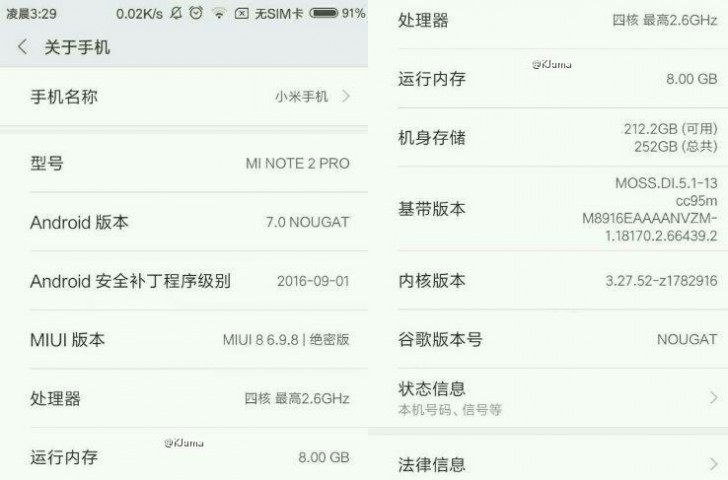 This will be the top version, previously we heard about 6GB of RAM, 64GB storage. That rumor also claimed that the device would be called "Mi Pro" instead.
Also, the 2.6GHz clock speed seems to confirm the Snapdragon 821 chipset rumors. Other expected specs (not listed on the About screen) include a 5.7" AMOLED screen and a dual-camera setup.
D
http://en.miui.com/thread-370585-1-1.html
D
http://en.miui.com/thread-370585-1-1.html
D
When you have no arguments to put just correct someone's spelling and grammar! Had fun???
ADVERTISEMENTS