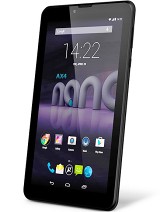 A2
I got this as a present from my ISP and I'm satisfied with it, it's quite decent for a 512mb RAM tablet. The battery is decent as well, lasting almost a week on stand-by and a whole day on heavy usage.

What I dislike about it is the android version, would have been better with jelly bean or with lollipop. Other than that the only thing I can complain about is the TOUCH screen, it is VERY fragile, having cracked mine while holding it in my pocket as a phone, be very careful with it.
?
It's not worth it. The CPU is very, very slow and Android KitKat makes it even slower. The only good thing about it is the OTG cable, which I use for charging my phone using the tablet's battery.
a
do not buy it. even now its so dummy morron on the tablet that it's on dummy even know I'm saying what to type and not typing well when you enter much more than 20 times on the internet all kind of commercials goes there. I have it as a present and I can feel that the touchscreen is annoying, the process time is soooo slow.
Total of 3 user reviews and opinions for Allview AX4 Nano Plus.