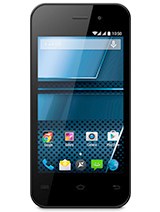 D
Very good phone for it's price, good processor, good android version, good ram size
$
Major disappointment for me is the size:
Actual dimensions are greater than specified: 126 x 62 x 9 mm!

So, thickness is correct, however both width and height are about 4-5 mm greater than specified!
I've seen somewhere over the web that someone complained about similar problem. That was very important to me, because I wanted phone less than 60mm width, so I asked Allview's support about the dimensions.
They assured me that 120.9 x 57.6 x 9.3 is correct one. Same info is shown on the package box, but this is untruth! My phone has 126 x 62.

Overall impression is pretty good.
Display colors are fine, touch response is good, no lags were found.
Camera is good for me, however I'm not very picky: colors are good, tiny text in snapped documents is readable. Autofocus speed is moderate, touch-focus works good (by the way, there is noticeable in silence sound in camera during focusing, but it is not annoying). LED is bright, so flashlight will work fine :)
Functional keys (menu, home, back) have blue backlight and there is a setting to use it for notifications (like missed calls).
GPS found location very quickly near the window (but refused to connect to any of the satellites in the room).
I'm not used to play games, so can't tell about the performance under the huge load.

Battery is not very good (not so bad for 1600 mah and 4 inches though)
Full charge time is about 2 hours. Charger output: 1A.
Simple 'capacity' test after 2nd charge from 100% to shutdown:
~287 minutes of video playback in VLC with Wi-Fi turned off. 94 minutes brightness was set to system's minimum, then it was reduced a bit more with additional app (still comfortable to watch in the dark)
Video used: 1280x720@24 mkv/mp4 (67% of time) + 512x288@25 flv (33%)

My phone had firmware version 7, I've updated it to v8 over Wi-Fi with no problem.
By default you can use only 1 GB to install apps (while overall free space is about 5GB).
Upgrade to Android 5 "is planned, however for now, we cannot guarantee any deadline"
And they were going to fix this 1GB issue in 5th Android, we'll see...
Total of 3 user reviews and opinions for Allview P4 Life.