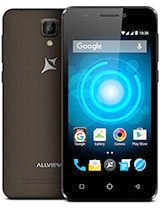 A
This is a very bad telephone- just a technically unacceptable equipment. It is manufactured/assembled by a Romanian company in the city of Brasov: SC Visual FAN SRL.

On the first day, the battery inexplicably discharged from 85% to 0% and the phone just turned off by itself. On the second day, software problems made the telephone unusable: the conversation got parked without warning and/or was interrupted. On the third day, the battery continued to fail inexplicably, the telephone turning off by itself just seconds after checking a battery level of sometimes 40%, other times 15%, or 30%. During all subsequent days, the battery inexplicably discharged in stand-by in only one night: from 100% at 10 PM to 10% the next morning at 7 AM, although the phone was never used during the night. The phone heats up excessively every time it is charged, posing a real risk for fire and explosion. On the phone's headphones you could barely hear what the other party said.

The phone was sold through the Romanian operator SC RCS RDS SA, represented by Zoltan Teszari. Although they "theoretically" give the buyer a "return right" within 48 hours, they will then totally refuse to give you back the money if you return this unacceptable telephone to them within 48 hours. If you return the defective telephone to them they will not reimburse any money, and they will not provide you with any other mobile terminal, leaving you without any possibility to use mobile communication, while at the same time charging your the monthly subscription fee. Even if made aware of all the issues, SC RCS RDS SA, represented by Zoltan Teszari, continue to sell this phone and deny any return right and/or money reimbursement for failed terminals.
Total of 2 user reviews and opinions for Allview P5 Pro.