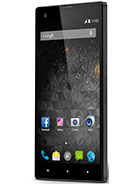 D
I have it for 5 months now. i can't say i'm very pleased with it. battery drains rather fast, the speaker for phone calls isn't good at all (at max volume it is still a bit silent), and after these 5 months the speaker stopped working ( will service it ). Some software bugs: calls getting interrupted occasionally, also phone shuts down sometimes at the end of a call. front led for notifications doesn't stop every time after checking the notification.
D
I found the same phone on the Russian market. It is called Fly IQ4511 Tornado One. Allmost the same phone (but with slightly different specs : 2GB RAM and 16 GB Flash) is made by Xolo, and it is called Hive 8X-1000. It is a great phone for about 180$ but has a great problem : can't find accesories on aliex or ebay, and very limited accesories are available on the Allview official market.
R
I've bought this phone in September and I have to say I'm pleased with it, although it has quite a few flaws. On the plus side we have a dual sim phone with a beautiful design, a nice weight to it, great primary camera, excellent screen and it performs OK! On the bad side... Frontal camera is in very, very poor quality, on its bottom side, you have the impression of two speakers, but you only have one - on the right, audio could be better, and since the new OS update, the battery is unreliable - one minute you have 20%, the next 7% and a few seconds later it shuts down. The manufacturers case is quite expensive and it's in very poor quality, I mean, I have it on for only 3 months and it's already unsticking, it wrinkled and looks cheap. All in all, buy it if you want an inexpensive smartphone that performs well under normal circumstances, don't buy it if you expect great performance!
Total of 3 user reviews and opinions for Allview Twin X2.