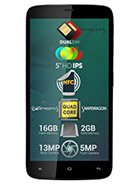 A
The phone is very good as specifications. But camera quality is not good. Performance is also good but OS is not stable. Applications are crashing frequently.
The price group is not correct at all. I bought this phone from Bangladesh at 175 EURO (according to conversion rate) only.
Important: http://www.tarunno.com/blogs/4
A
Hi All,

Am quite fascinated with this beast… The specs are killing :)

Can I buy this phone online? Currently only available in Romania as went through their website..

Your guidance is much appreciated…

Regards

C
I have this device for about 10 days. I am very satisfied with it. Even if the screen is not full HD, it is quite OK. Very responsive, it did not hanged till today not even once. Web pages are uploaded very fast. I did not played games to test it, but given the experience so far and the specifications, I guess there should be no problems. I like that the producers included their own software for writing NFC tags, that offers the possibility to manipulate even the GPS start/stop without root access (as I saw others apk ask). Regarding NFC communication, I could not be able to send files to/from Samsung devices (Note 3 and S4), but only contacts. I suspect it is about Samsung, as I had similar problems with Samsung when trying to send to a Nokia. GPS module works like a dream, it is by far the fastest I worked with, connecting within seconds. Battery assured enough juice to keep the phone on for almost 2 days, normal use, with 3G and Wi-FI permanently on, bluetooth and GPS on during driving (about 90 min), talking to the phone, browsing and playing Solitaire :) The software, even if is not the latest, works fine, and it is good Allview renounced its Berry interface they used to put on top of the Android. About the camera, I was surprised about their quality, some of the pictures I got was so good you could say they are made with a compact or a bridge camera. I saw the photos put as example by our site colegue, and either he was unlucky, or I was luckier, the camera on my device is visibly better. Of course , in low light the photos are not extraordinary, but in those conditions, even a compact is not doing better. The camera software is nice, I did not feel the need to install other application as I used to do with other smartphones I used before. Panorama works fine and eraser is very useful. A phone worthing each penny you invest in it, with a report price/results hard to be beaten, that shows this little company (Allview) begins to find its way.
s
Why is that price group ? It's a lot better then Galaxy S3 and about the same price.
?
A very good smartphone.
P
only good things about it !!!
D
I think the specifications are similar to Xolo Q1100 as released in India.

Hope Kitkat 4.4 rom is released for all these devices.
?
Got the new Allview V1 Viper S. What a surprise. probably one of the est phones I ever had.AND.... it's Romanian
(well kind'a. it's assembled in Romania). All-in-all I loved the phone and it's performance. Going to buy another one for my traveling. highly recommended. Just need to wait to the accessories to come.
A
is a very good phone.
I have for some time and it works fine.

thanks ALLVIEW
L
This set is available in our country as Walton Primo S2. I already bought it. Overall performance is good but OS is a little bit buggy. Waiting for 4,4 update for this device.
Back 13MP camera also not so good. Check the photo quality captured with my device.
http://www.purob.com/thread-8769.html

?
AnonD-239883, 21 Mar 2014where can one buy this phone? pls replyRight now, you can only get it from, their official website (allview.ro) as it is on preorder until 29th March. After then, it will also be available in other countries than Romania.
D
where can one buy this phone? pls reply
?
The price isn't 310 euros, it's about 285. Anyways, great phone from the Romanian company (City of Brasov, precisely, the city where I'm from). It is better than the Moto G, and just slightly more expensive in our country (a 16 GB Moto G is about 250 euros) so this phone is worth it for the better cameras, more RAM and a better CPU. One thing bad about this is that it probably won't get updates, but I'm still going to get it, and root it if I really need to.
Total of 53 user reviews and opinions for Allview V1 Viper S.
ADVERTISEMENTS