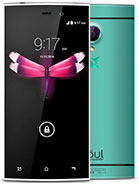 E
Amazing that someone can make a phone over 10mm thick in 2014, and still needs a protrusion for the camera...

But that said, thumbs up for the first phone-sized device with FullHD available in the west. Previously this has been a phablets-only or Japan-only.

But perhaps it is an error? Their own spec-page are self contradicting on the display
http://allviewmobile.com/smartphones/x1-xtreme-mini.html#
M
This is a great phone, I really like it. I will buy it because it Is performant and very useful. I enjoy the green version very much, its both for girls and boys. Great job Allview!
L
Looks amazing, this could give the Sony Z3 compact a run for its money. If Allview had the marketing power of Samsung and the social media pull of Oneplus I imagine this could become one of the most popular handsets. The design reminds me a lot of what HTC has done with its flagships.
Total of 5 user reviews and opinions for Allview X1 Xtreme Mini.