Alphabet's Q1 2018 revenue stands at $31.1 billion, up 26% year-on-year
Google's parent company Alphabet has released its earnings report for Q1 2018, revealing a revenue figure of $31.1 billion, which is up 26% from the same time period last year (revenue in Q1 2017 was $24.7 billion).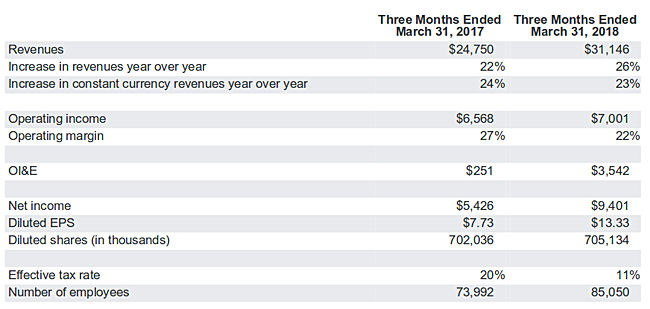 Google's advertising business accounted for a major part of Alphabet's revenue, brining in $26.6 billion. Revenue from other sources stood at $4.3 billion. These figures were up from $21.1 billion and $3.2 billion y-o-y, respectively.

The company's net income stood at $9.4 billion, up from $5.4 billion reported by the Mountain View, California-based company last year.
Alphabet also revealed that its financial results were affected by a new accounting rule that basically changed the way Google reports its investments in other companies. For more information, head to the Source link below.
R
i want a piece of that money too. its unfair that they dont distributed for the Android Users. probably all ministers involved and that lady, in court dont use android... where goes that money? the EU?really ?its unfair... lool
D
Your arguments fall flat on the simple point that is, if users pirate software then Google won't make a cent either as those pirated apps will have Google ads disabled. The typical alt-reality examples you're making mysteriously omit the fact that ...
Iran is a country. There are 10 million people there who are restricted for financial political reason. Play store is available and payment is under sanction. Those 10 million directly use apps without payment. All of them, not just most of...