Making a good smartwatch is no easy task. It's hard to retain traditional looks and deliver modern functionality and keep the whole thing usable. Lately we've seen more and more devices aim for the space between the simpler but long-lasting smart wristbands and the more elaborate but constantly-low-on-battery smart watches. They aim to deliver the best of both worlds and the Xiaomi Amazfit Bip might be their most exciting representative yet.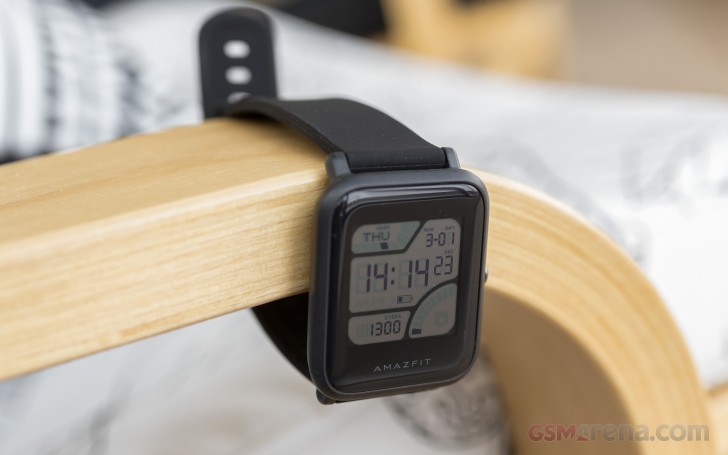 Personally, I've had the pleasure of owning and using a long list of smart wearables over the last few years, culminating in my purchase of the Gear S3 last year. And as we explore the Amazfit Bip in more detail, I will try my best to explain why the Samsung smartwatch has been gathering dust since I got the tiny Bip.
First the specs rundown.
Amazfit Bip at a glance
Body: Plastic frame, Gorilla Glass 3 Front + AF coating, soft rubber 20mm strap; 18g weight of the body, 32g with the strap
Display: 1.28 inches, 176 x 176 pixels, Transflective color display, 2.5D glass
OS: Proprietary, no third-party app support; Compatible with Android 4.4, iOS 8 and above
Internals: Mediatek chipset, PPG heart rate sensor, triaxial acceleration sensor, geomagnetic sensor, barometric pressure sensor
Connectivity: Bluetooth 4.0 BLE, GPS + GLONASS dual mode positioning
Battery: 190mAh non-removable
Lets first look at the hardware. The polycarbonate body feels okay, although its lightness doesn't give a very reassuring feel initially. I did find that it can take quite a beating and still come off looking better than a metal watch, like my old Huawei Watch or the Samsung Gear S3, both of which were more susceptible to denting. Plus, you can get inexpensive plastic snap-on covers to protect the Bip and the total weight would still be low enough not to bother you. As an added bonus, you can get them in a variety of colors, to spice things up when you feel like it.
The front of the Bip is one piece of curved 2.5D Gorilla Glass 3. After well over a month of constant wear, I am yet to find a single scratch or mark on it - in some ways it might fare better than the mineral glass you find on some hybrid watches, like Fossil's budget lineup.
A key feature of smart wearables being sleep tracking, I'm pleased to report that you can easily sleep with the Bip. It is very low-profile and sits incredibly flush on the wrist. In contrast, my Gear S3 is not only heavy and metal, but also twice as thick. Definitely uncomfortable to take to bed. The strap on the Bip is also very soft and nice to the touch. Surprisingly more so than the Gear S3, as well as the one I had on the Huawei Watch. And just as those two it is a standard strap (20mm), which you could easily replace if you see fit.
The center point of the Amazfit Bip, has to be the 1.28-inch LCD. Its shape and form remind me a lot of the very first smartwatch I owned - the Sony Ericsson LiveView MN800. It was a lot thicker and bulkier, but also surprisingly functional and advanced for its time. It was in color and even though it only had a touch-sensitive frame, instead of a proper touchscreen, it had third-party app support and a surprisingly diverse selection of apps. I actually held onto it until its unsupported Android companion app became really obsolete. But, it does still work. Sorry, got a little sidetracked there.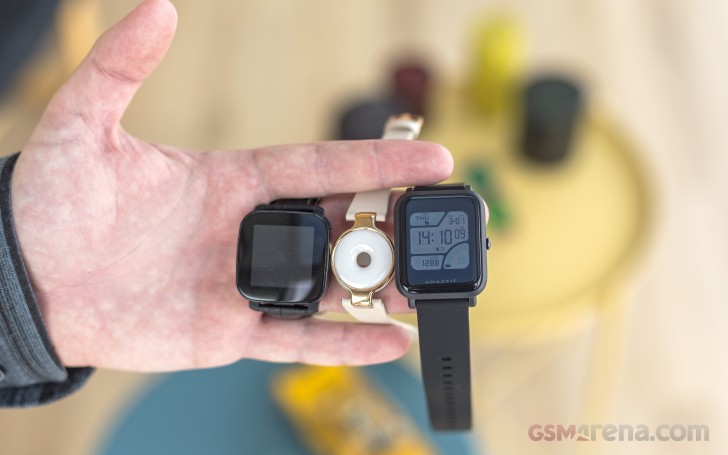 Another, perhaps more accurate comparison to make is between the Bip and the Pebble line of watches. Again, the Bip doesn't have nearly as many buttons or extensive functionality, but the "secret sauce" behind the display tech is very similar. The Bip uses a low-resolution, 176 x 176 pixel and low color-space LCD. However, it is based on transfective technology, just like the Nokia phones from 10 years ago.
The most notable benefit of this approach is power efficiency. The display module on the Bip is incredibly frugal and practically sips battery. And since the display is the most power-hungry component in most tech nowadays, it is no wonder the Bip can squeeze around 45 days from a single charge of its 190mAh battery.
In contrast, the Samsung Gear S3 only lasts for 4 days with minimal use, despite its OLED display and 380 mAh battery. Transflective panels also love light. Outdoors the Bip thrives. In fact, the more sunlight you can shine on it, the more legible it gets. Kind of strange in the modern tech scene.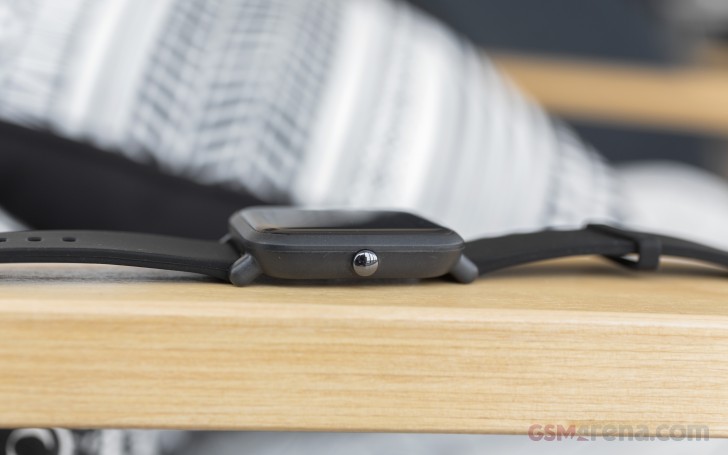 Indoors, it is a bit dimmer than most people would consider comfortable, but there is a blue backlight to aid with night-time operation. You can control its intensity in the settings and the Bip is even smart enough to recognize a hand raise gesture and turn it on automatically. The detection is really reliable.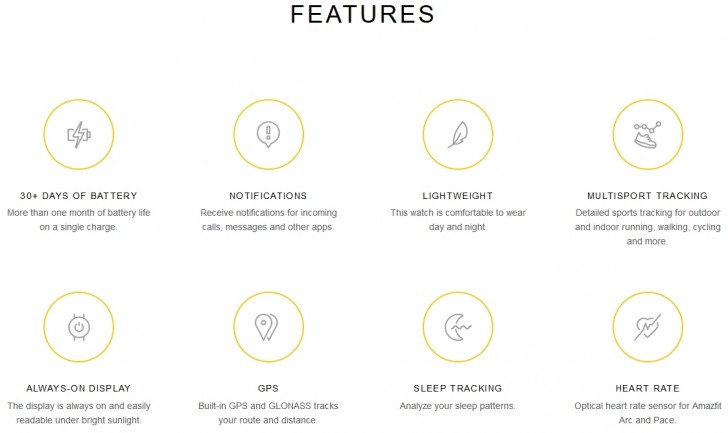 The Bip even throws a heartrate monitor in the mix, as well as GPS for tracking workouts. Just don't expect any actual navigation or other advanced tracking capabilities from the latter. Currently, it is only used to improve distance measurements. A real bummer, since it should be fairly easy for it to keep a position backlog for route history.
Technically, you can extract that information with the use of third party apps and then try to make sense of it yourself. Just bear in mind, the GPS gets activated only when you start an activity from the Bip itself.
In its current state, the Bip can track walking, running, treadmill exercise and cycling. No swimming as the wearable is only rated for light splashes and up to 30 minutes under fairly shallow water. Using the watch in exercise tracking mode drains its battery completely in about 22 hours. In contrast, the heartrate sensor can be programmed to take occasional readings throughout the day and night and provide an average heart-rate to complement the steps, distance and burned calorie estimate, the watch already tracks.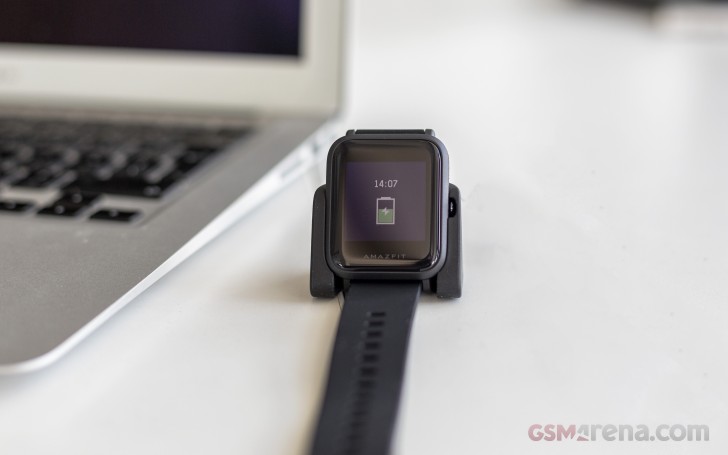 The Bip might not be capable of GPS navigation, but it does have a compass. There is also a timer and a weather feature. Information for the latter naturally gets pulled from the companion Mi Fit app on the phone.
There is also an alarm feature, which works in the exact same way it did on the Mi Band and I found it ended up being one of the features I used the most on my Bip, alongside checking notifications and call reminders. The reason is the Bip can only vibrate and doesn't make a sound. As I mentioned earlier, I have no trouble sleeping with it and I have found vibration on the wrist to be surprisingly effective at waking me up in the morning. Plus, the alarm on the Bip is not tied in any way to the clock or the alarm on the connected phone. That means that you can just have your watch vibrate in the morning and not wake up your significant other or anyone else that happens to sleep in the same room.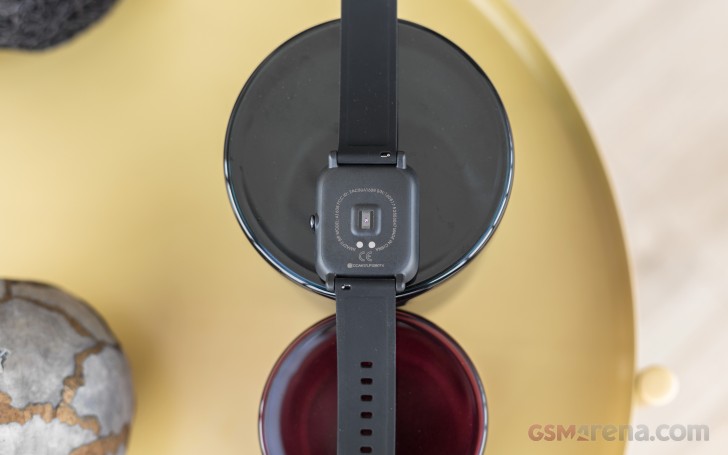 As for disadvantages of the Bip, I have found only a few. First among those is that you can't adjust the duration of notification pop-ups on the watch and the default setting is a bit too short.
Also when you raise your wrist late in hopes of catching a notification, it does not pop-up, like it would on the Huawei Watch or Gear S3. To see the notification after that you have to press the sole button on the side of the Bip, which acts as a sort of unlock and enables the touchscreen. Then start swiping up through the list. Notification stacking is also a sore omission. So is the fact that you can't answer a call from the watch.
Since the Bip has neither microphone nor speaker, the only two options available when a call comes in are ignore and hang-up. My Gear S3 does and I do still miss that about it. On a more positive note, the call notification does come in practically instantly, thanks to Bluetooth 4.0 LE technology.
Finally, the Bip gives very few customization options out of the box. There are a few built-in watch faces and, as mentioned earlier, no third-party app support. Thankfully, there is an incredibly vibrant developer community already formed around the Bip that has added a lot to the user experience, provided that you use an Android phone, that is.
First off, there are at least a few open-source alternative app companions for the watch. In case you find Mi Fit a bit too heavy, or you simply don't want to go through the hassle of registering a Mi account, just to use the Bip, I can personally recommend Gadgetbridge. It is full-featured, very stable in maintaining a connection and syncing data and a lot more power-efficient than Xiaomi's Mi Fit app.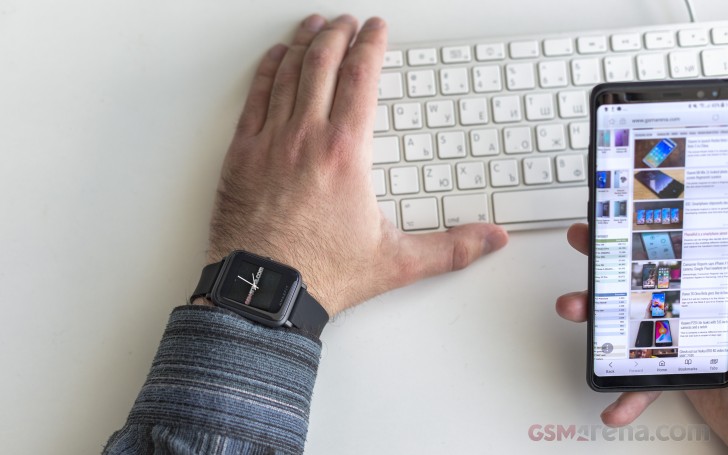 Once you get on board with Gadgetbridge, it's only a small step to getting new watch faces on the the Bip. Although these are not officially supported, you can easily download custom ones via one of the many Android apps on the Play Store or directly from https://amazfitwatchfaces.com/. The selection is vast and constantly growing. Once you get the package, you just need to open it from a file manager, with Gadgetbridge and it will do the rest. After a short flashing process, the custom watchface will appear in the settings. The only bottleneck being that currently, you can only have one custom design loaded at a time.
Once you get all that mastered, it is just another small step to actually designing your own custom watch faces. This process is not exactly trivial on either Wear OS, Tizen or watchOS. Since the Bip is fairly simple in the way it handles its watch faces, you can actually construct one together with some fonts, images and basic knowledge of JSON. In fact, more and more tools to simplify the job are constantly popping up, making the process even simpler, like this one. There are many dials and watch styles to choose from as well.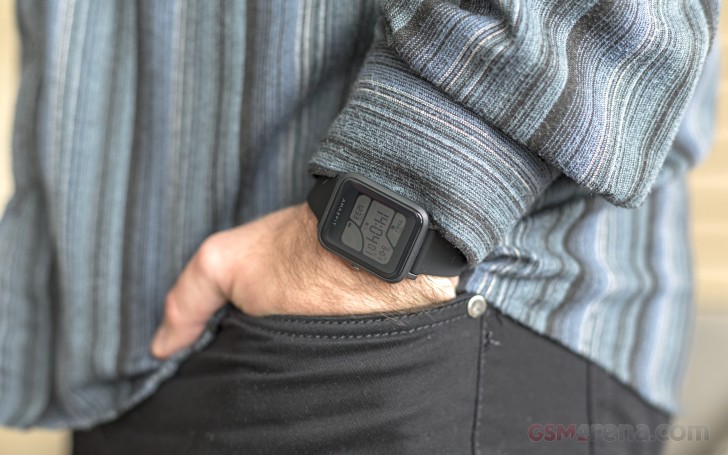 There is even a Tasker plugin available for the Bip. If you put in a little work, you can enable a surprising amount of extra functionality yourself. I was even able to solve my in-car call answering problems, by mapping the Bip's button to that action.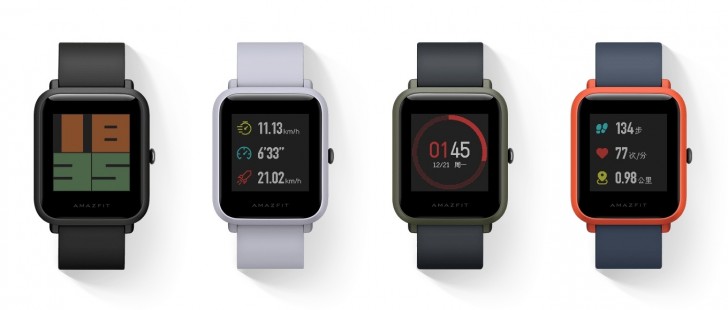 The Amazfit Bip can currently be had for around $65, although for that price it has to be shipped from China, so import fees will swell up the cost. The official MSRP in the Amazfit US store is set at $99. That's still a decent deal, considering what it offers. Sure, it's not a particularly formal watch, nor is it jam-packed with features. What it does offer, however, is a nearly seamless everyday wear experience - practically zero hassle and great dependability.
?
I was extremely short of breath and constantly tired due to my Emphysema, I was introduced to VineHealth Center and their COPD Herbal Protocol. I started on the COPD Treatment last year, my symptoms gradually diminished including my shortness of brea...
M
Phone call receive and Dial call option on this amazfit BIP smartwatch
?
It's not blood pressure it's air pressure my friend
ADVERTISEMENTS