Introduction
Amazfit has been on our radar for at least a couple of years now. The original Amazfit Bip is the wearable that managed to sway this reviewer, personally, away from much more high-profile and expensive alternatives, like the Samsung Gear S3. And the Amazfit GTR still remains my daily driver. And it should be noted that this is not motivated by a lack of other options. The smart wearable market is experiencing a sort of renaissance at the moment. Even so, Amazfit's or rather Huami's products continue to hold a particularly special place in the ever-growing wearable niche.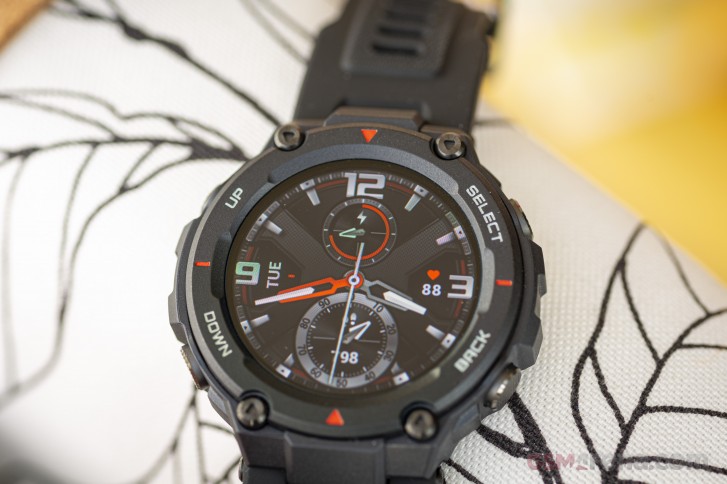 It is hardly surprising that we were excited to check out the Amazfit T-Rex. It is a rugged wearable that seems to combine everything that we think is great about existing Amazfit devices with a really tough exterior. Suitable for a more active, outdoorsy lifestyle.
Most people, us included, hold Amazfit products in high regard for their amazing battery life. Just like the slick and elegant GTR, the T-Rex retains this amazing energy efficiency, easily offering 20 days of use on a single charge.
This is all made possible through years of component and design refinement by manufacturer Huami. A name that's not particularly well-known, yet says a lot about the pedigree of the T-Rex and instills a lot of confidence. Not counting the Apple Watch, Huami is actually the largest wearable device company in the world, with over 50 million units sold and over 16% global market share. Besides its own Amazfit fashion-conscious brand, Huami is also responsible for Xiaomi wearables as an exclusive provider. As such, it is the company behind the popular Mi Band line of products.
Amazfit T-Rex specs
Body: 47.7 x 47.7 x 13.5 mm, 58g (with strap), non-standard strap; 5 ATM water resistance (supports swimming) and STD-MIL-810G certification; Gorilla Glass 3 front + oleophobic coating; Polymer body, metal buttons
Display: 1.3" AMOLED, Resolution 360 x 360 pixels, support AOD watchface
OS: Proprietary; Support for Android 5.0 and above, iOS 10.0 and above
Battery: 390mAh (20 days typical use, 66 days basic watch mode, 20 hours continuous GPS tracking)
Connectivity: Bluetooth 5.0 + BLE; GPS+GLONASS
Misc: BioTracker PPG biological tracking optical sensor, 3-axis acceleration sensor, geomagnetic sensor, Ambient light sensor
Back to the T-Rex, though, since it is more than a mere Mi Band clone. In fact, the skin-deep assumption that it is merely an Amazfit GTR inside a different shell is not entirely true either. Both of these parallels, however, are valid and important.
At its core, the T-Rex, just like the Mi Band and the GTR appears to be based on the same core of sensors and components. This is important to note since none of these devices is technically s "smartwatch". The lack of advanced functionality and a third-party app ecosystem technically makes the T-Rex a mere "smart wearable" rather than a full-featured smartwatch. This means that you are stuck with the default out-of-the-box features and functions unless Amazfit decides otherwise with an OTA update. What you gain, in return, is much more optimized and efficient operation. And through that, in part, the amazing 20 day plus battery life. A feat unattainable to current full-featured smartwatches.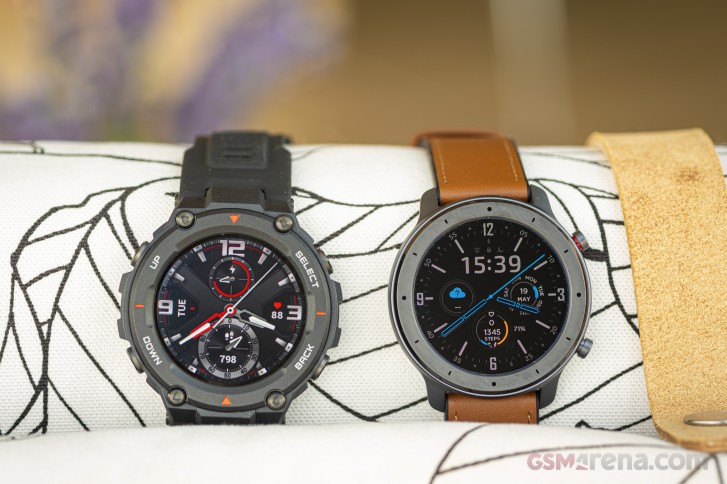 For many, me included, this sacrifice in functionality is justified for the sake of battery life and the convenience it affords. Plus, just like other Amazfit "smart wearables", the T-Rex is plenty feature-rich. Definitely enough for most wearable users. It handles both notifications and calls in a very efficient manner and has a plethora of activity and fitness tracking features. Chuck a surprisingly potent GPS receiver in the mix and you end up with the T-Rex - a well-rounded and value product. Follow along on the next few pages as we dig-down into exactly what makes it tick, what it gets right and what it misses the mark on.
Unboxing
Amazfit products aren't necessarily premium by nature. Good value is the main goal here. Even so, the company has never skimped on presentation. The T-Rex ships in a solid two-piece box, complete with a silky-smooth finish. The internal layout retains the same level of quality and is a neck above what you would see from a run-of-the-mill cheap Chinese wearable. Things are still kept within reason, though, so as not to unnecessarily ramp-up costs. Like the fact that all the fancy and colorful graphics and text printing is limited to an outside cardboard box - the cheaper approach.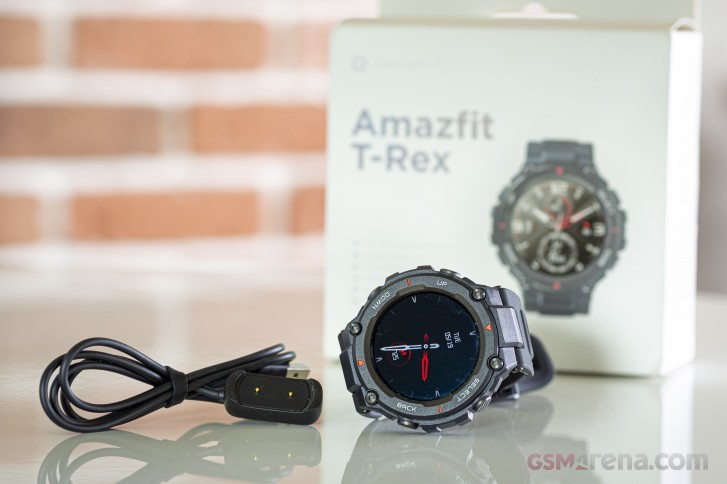 There is no accessory bundle to speak of here - you just get the watch, which sits in its own, well-protected niche in the box and a USB magnetic charging stand, with two pogo pins. No additional straps or anything of the sort. With a current retail price tag online below $150, we really can't ask more of the Amazfit T-Rex. You should keep that value price tag in mind going forward with the review, as well.
n
Is anyone using this watch? Should I buy T-Rex, T-Rex Pro, or this one? https://youtu.be/oNcDqBlvgpY
S
I have the same issue..I brought the watch yesterday and the heart rate sensor, blood oxygen level and stress level monitoring is not working...