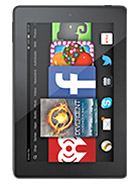 P
Tammy, 30 Dec 2014The videos and pics are stuck in my hd7 and know matter what I do the USB- plugged in to the c... moreJust download a free program like MoboRobo to your computer and you will be able to transfer what you want
?
Tammy, 30 Dec 2014The videos and pics are stuck in my hd7 and know matter what I do the USB- plugged in to the c... moreIt doesn't work like that. There isn't a removable memory card in it. Everything you downloaded can be uploaded to the cloud, then downloaded to your computer. See if you can find someone who can read and explain this to you. Best of luck!
m
This is a great little tablet, much more powerful than the original Kindle Fire which I replaced with this one for my daughter. Much more sturdy as well - especially the charging port. I paid $200 for an original fire 3 years ago, and $60 less for one twice as powerful 3 years later. a great deal, IMO.

It is hard to get certain OS's to recognize the Fire as a storage device, even though it "connects" and installs drivers just fine. I use Ghost Commander from the Amazon App store to transfer files wirelessly. You have to install the Ghost Commander Samba Share app as well to play nice with Windows.
Total of 4 user reviews and opinions for Amazon Fire HD 7.