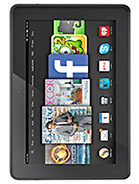 O
Dearest the wise.40% of bezel in 3 layers maybe is the new record in tablet history!!!But with the hearse price of $80 not bad for children to play games with it!!I think it must be Amazon's flagship too!Who knows more about the Amazon!!!?Thanks for sharing your knowledge!Of course not Amazon the Jungle!!Justice Rights.Omid12Omidvar.loves to learn much more knowledge sharing too!Why not!!!?
M
Apart from the presence of the Camera; excellent specifications. I hope a non-camera version will follow soon.
D
I've been fairly happy with the previous model, I only wish I could install vanilla Android on it. This would be a great tablet if it ran Android 5. Fire OS isn't really good, in fact it's one of the worst skinned Android builds I have ever used. What makes up for it is the great specs and that awesome screen. Hopefully someone will figure out how to unlock the boot loader.
Total of 4 user reviews and opinions for Amazon Fire HDX 8.9 (2014).