Building upon its wide expertise in the tablet space, Amazon has unveiled its first smartphone today. So yes, all those rumors were true after all.
It's called the Amazon Fire Phone and its main selling points are bound to be Amazon's reach in terms of content services, as well as the unique 3D UI dubbed Dynamic Perspective.
This much talked about feature changes what's depicted on the screen depending on where you are in relation to the phone. It accomplishes this by tracking your eyes with four specialized cameras that are located in the front corners of the handset. You can see it in action in this, rather quiet, video.
Dynamic Perspective ties in nicely with tilt gestures that allow you to initiate actions by simply moving the phone. For example, you can tilt the device to scroll inside the browser, something eerily reminiscent of Samsung's Smart Scroll feature. And the same thing works inside ebooks, and even games.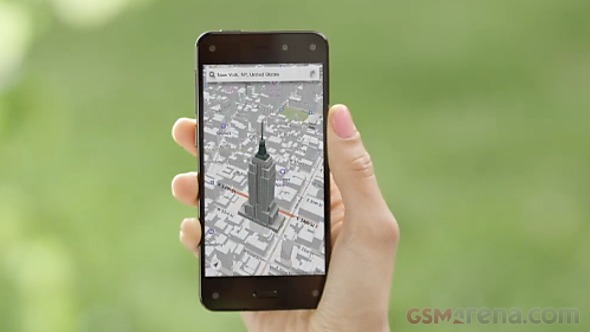 As previously leaked, the Fire Phone boasts a 4.7-inch IPS 720p touchscreen with 590 nits of brightness, a Qualcomm Snapdragon 800 chipset with a 2.2 GHz quad-core CPU and Adreno 330 GPU, and 2GB of RAM. It has support for 4G LTE.
The handset's frame is made from rubber, and a sheet of Gorilla Glass 3 is present both on its front and on its back. The buttons are made of anodized aluminum.
The rear camera is a 13MP f/2.0 unit with a five-element lens, and it comes with optical image stabilization as well as a dedicated hardware button. Amazon is throwing in free unlimited photo storage in its Cloud Drive.
The Fire Phone has two stereo speakers on the front with virtual surround sound. The earbuds that come in the box have a tangle-free cable and they snap to each other thanks to built-in magnets.
The Amazon Fire Phone runs Fire OS 3.5, which seems to be the same OS used on the Kindle Fire line of tablets. It's based on Android but lacks any of the Google's services.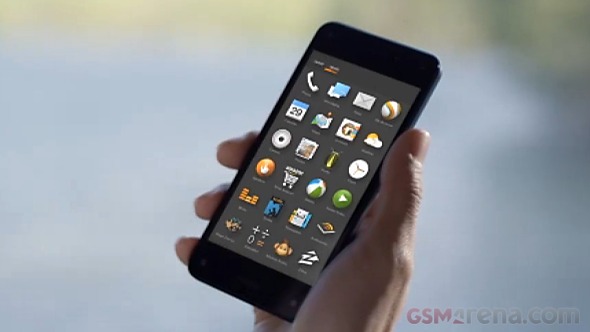 Obviously Amazon has made a big deal about its content services too. Movies, TV shows, music, books, magazines, and newspapers - all are available right from the retail giant itself.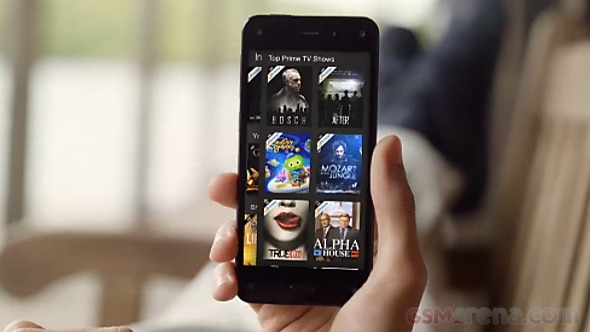 Furthermore, a new exclusive feature called Firefly uses the phone's camera or microphone to recognize the things around you and then find them in its database. So you can point the camera at a book, it's recognized and you're then immediately offered the option to purchase it from Amazon. This also works for identifying TV shows and songs, and it has its own dedicated button on the side of the Fire phone.
Another exclusive feature is Mayday, which gets you 24/.7 remote support for any task you would like to accomplish on the phone.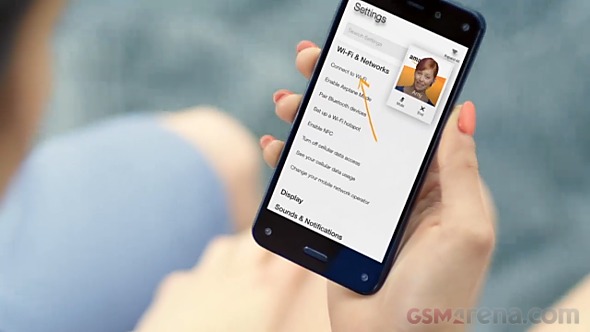 Amazon's first smartphone is exclusive to AT&T in the US. You can already pre-order it from Amazon, and it will be shipping on July 25.
The pricing is far from revolutionary. The commitment free price is $649. With a contract, the base 32GB Fire Phone would cost you $199 along with a new two-year contract with AT&T. Or you can choose the carrier's Next plans and pay $27 per month for the device. A 64GB option is available for $299.
So no, the Amazon phone isn't free (not even on contract), but you do get a year's worth of Amazon Prime with every phone (introductory offer).
G
It's clear that you havent heard about the Apple brand and the story of how it evolved. Its clear that you have just been introduced to the Smart phones. Or still worse to the phone family itself...Or else you would think 10 times before commenting a...
a
Long long before , a very long back while there was a company Who invented thing about new computers, which were just to say not say big enough to fill your garage. The company was IBM come apple first Mac everything changed there off. World never le...
ADVERTISEMENTS