Update: wow, that was fast - the promo is now gone, the Nexus 6P is back at €650.
We often complain about the European price of the new Nexus phones, now (for a short while) the price of the Huawei Nexus 6P is actually pretty good – at Amazon France for the next half a day the 6P costs €500, €150 off its regular price (prices include VAT).
That's for the 32GB version, the 64GB and 128GB ones do not get similar discounts. Also, only Aluminum and Graphite units are available, the other color options don't have 32GB units in stock.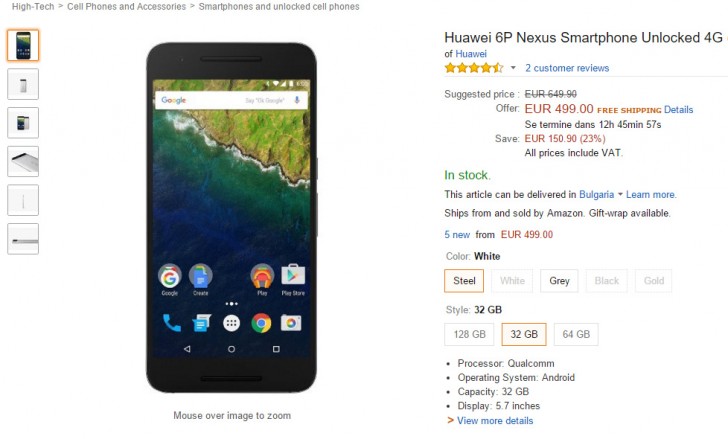 The promotion is valid for about 12 more hours, afterwards it's probably back to €650. There is no similar promo in the German or UK Amazons and we couldn't find other stores that do a similar price cut. If you spot one, we and the other readers will appreciate a link in the comments.
E
The offer is back - €416 ex VAT, so around €499 (Frnch 20% VAT) or around £322 ex VAT and £386 incl. 20% VAT
?
Nexus 6P have built related issues, so its a no for me. Google should have considered Xiaomi or OnePlus for their Nexus program instead of Huawei......