The US Amazon is selling Nokia Lumia 900 for AT&T for 1 cent once again, and this time the offer isn't even limited to new users only.
Nokia Lumia 900 for AT&T offers LTE connectivity and is the company's current WP flagship. The fact that it won't get to taste Windows Phone 8 is pretty damaging for the Lumia 900 market prospects, but maybe this promotion and the consolation WP7.8 update will help.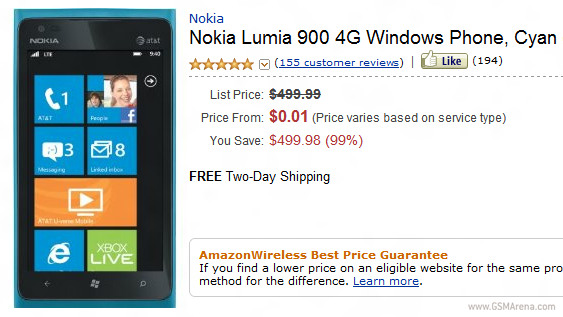 Still WP8 smartphones probably won't be on the market for at least another four or five months so if are about to sign an AT&T contract, you might as well take Nokia's offer for free lifetime navigation, a 4.3" AMOLED and a super cool polycarbonate unibody.
?
Honestly I could care less about the update. The lumia 900 is still a great phone and does everything I want it to do. I'll just buy WP 8 for full price when I can afford it. Its not that big of a damn deal to have an outdated phone. Especially when ...
D
Even free is not interested phone. It is old now, not upgradable and with a very obsolete OS. Hope to keep using my symbian phone which is much better.
?
Best way to sell WP phones is to sell them for US$0.01, unlock without contract! Then I'm sure it will outsell Galaxy and iphone combined!
ADVERTISEMENTS