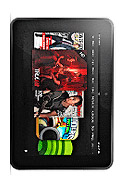 D
Would be nice to know if the buyer can add memory post purchase. Much less expensive thataway.

In other news it sure would've been nice if they'd used the film-quality Foveon chip for the camera instead of the one-color-per-pixel chips we've been stuck with for so many years.
a
Gp, 16 Oct 2012Is the camera really 1.3 megapixels??yeah dude its front facing cam ......only for video chat and stuff
Total of 5 user reviews and opinions for Amazon Kindle Fire HD 8.9 LTE.