Samsung's latest flagship, the Galaxy Note II, is one of the most popular devices currently on the market. The powerful 5.5" phablet normally carries a price tag of $249.99 but right now it is being offered for the way nicer $99.99 by Amazon.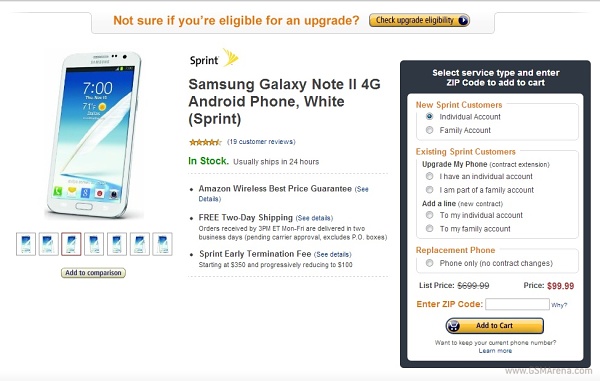 The offer is currently available for new Sprint customers only and it requires a two year agreement with the service provider.
If the existing customer chooses to add a line of service with the smartphone, the price would be $169.99 and if any existing customer decides to upgrade his smartphone, the price is $199.99.
Amazon's latest deal is live from yesterday and it may expire soon, so act quickly if you are to take advantage.
In case you are looking to find more about the phablet, check out our detailed review.
?
your comparison is wrong since you didn't consider that you're also paying for the phone network service that is why you have to deduct that calculation of yours with how much you will spend for a SIMILAR phone network service (WITH 2 years CONT...
1
The person who asked was from Pakistan, why would the person need any service from Sprint in US? The person could of get the same phone SIM free without contract in many parts of the world for much less.
B
The US really do get ripped off with their phone prices. You can get a Note II for free in the UK on a 2 year contact with 600mins, unlimited texts and 500mb of data for £29pm including all taxes. Thats less than $48pm.
ADVERTISEMENTS